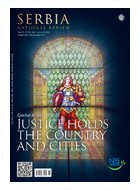 "SERBIA - NATIONAL REVIEW"
Number 85
Epochal Knots around Us
JUSTICE HOLDS THE COUNTRY AND CITIES
• Album • Paths • Edifices • Examples
We are pale and exhausted, indifferent and numb? Or we are delusional (the deceit of the moment)? Can marketing swallow or replace life? Can such media aggression be tolerated? Can the "blue grass of oblivion" grow here? Let us not list everything now. Wake up. Take the remote and finish them all. Let your life, not just your monitor, be in color. Get ready for "distances within us", for "closeness that cannot be reached via a shortcut". And the Easter Epistles remind us that we
must not stop rejoicing in life. Life is still a gift, not just a torment. Here
is a beautiful Serbia in front of you. Let's go.