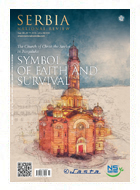 "SERBIA - NATIONAL REVIEW"
Number 77
The Church of Christ the Savior in Banjaluka
SYMBOL OF FAITH AND SURVIVAL
• Lens • Treasuries • Old Masters • Health
The power of hope. Unforgettable friendship. Mysterious dream of a stone. Following Sava's earth-heaven road. Greetings from the First Europe. Symbol of hope and survival.
There. Six titles, eighteen regular editions, plus about fifteen special ones, and we have completed another circle. A year has passed by. Surprised, we notice around us artificial crowds, artificial commercial-advertising festive atmosphere, artificial victories and defeats.
The world that has been presented this year by National Review to its readers is not artificial, or furnished, or over-decorated, but has been carefully selected by the standards of beauty, kindness and honesty. As always, see it for yourself.