Old Masters
MANOJLE GAVRILOVIĆ (1945–2020), POET FROM THE GOLDEN FOUNTAIN AND ENCHANTED FIREPLACE
Pictures of Ancient Worlds
He dived into mythical depths, Slavic and Ancient Serbian, and brought bosoms full of refined pictures and melodies from there. He traveled to his homeland in Njegoš' heavenly carriages to pick poems. His sisters were birds, does, magical girls who make garlands and sweaters from flowers, rays of sun, dew, wind. Bright pictures sometimes resemble folk embroideries and naïve painting, and sometimes deep frescoes. When Serbian books were burned in a library in Croatia in front of cameras, the poet again saw the image of Saint Sava, his favorite hero, under the flaming light of the Cyrillic alphabet. And all roads started opening and all of them led upwards
By: Dragan Lakićević
Photo: Private Archive and Zoran Pavlović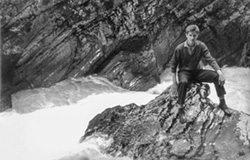 We cannot say whether anyone will "stay" in literature or not: in encyclopedias, anthologies, school programs, textbooks of the future. Old books show those who have once been in them, and later disappeared. We quickly forget, more and more quickly as time passes… Old books are replaced with new ones. The best poems are no longer learnt by heart…
Our task is, nevertheless, to note. Not to forget.
Manojle Gavrilović (1945–2020). Disappeared in the time of corona.
I say "disappeared" because he died at the beginning of the epidemic. One of the "measures" for protection against diseases was the ban of gatherings at funerals. Manojle died in the Clinical Center in Zvezdara. There was no funeral, sermons, memorials, commemoration. We who knew him lost much more than he did.
FIRST COLLECTIONS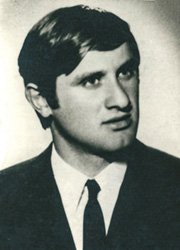 We learned about him in 1982, when he came to Belgrade from Užice, to study another two years after the pedagogical academy and graduate at the Faculty of Philology. The same autumn, he handed in the manuscript of his first book of poetry to "Prosveta". By the end of the year, he learned that his collection of poems was "accepted" – it was the biggest recognition for young, and not only young poets.
"Prosveta" was the most reputable and biggest publisher of contemporary literature. "Nolit" was also close to it, famous for theoretical and essayistic literature… Editors for poetry in "Prosveta" were: Stevan Raičković, Miodrag Pavlović, Milorad Pavić, Milan Komnenić… Just imagine their choices!
Manojle's book was entitled The Sun and the Carriage, just like the folk lyrical poem. Folk poems, like Manojlo's, celebrate nature, beauty and love, and most of all the sun ("Shining Sun set off to a journey"). That is why the first review of the small book with 25 poems-medallions was written by professor Vladeta Košutić, editor of Raskovnik, "magazine for rural literature and culture", in the Cultural Amendment of Politika, entitled "Carriage of Serenity". The carriage was Njegoš' heavenly carriage, flying through the blueness of the universe and carrying images, which ancient poets' poetry, including Manojlo Gavrilović', consists of.
Praises started arriving, applauses began in literary meetings, Manojlo is invited to visit cities, schools, poetry festivals. There was a literary evening every day… Inside that echo, the poet was quickly assembling a new collection – "Prosveta" published it in 1975, entitled Enchanted Fireplace.
The "Fireplace" entered Gavrilović's lyrics from fairytales and oral tradition and mythology – critics searched for the source of presentations and meanings from the first collections in oral lyrics, fairytales, dragon-like and general romanticism tradition.
In his Enchanted Fireplace, as well as later, almost all books, Manojle dives into the origins and riddles of mythical, historical and folk-religious worlds, mostly on the level of image, visual and melodic dimensions:
From old fireplaces
under the seventh world
I hear a violet
blossoming in a skull
From the throat of a flute
young elderberry is flaring
sprouted waiting for warriors
to return from their hunt.
POEMS AND POSTCARDS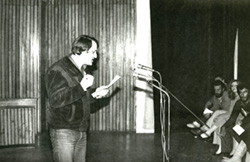 Prior to "Prosveta" and his literary career, Manojle was a young poet. Born (like Brana Petrović) in Bjeluša near Arilje, he had watched the variable images of skies and earth under the light of the Moon, Sun and stars – in landscapes, hills, forests, blossoming and declining of nature. In mid-XX century, people in Serbia still sang on village gatherings and in fields, they remembered audible decasyllabic verses and epic heroes.
As a young man, school and university student, he published a few poems, received a few awards for young artists, was selected for a poetry festival. The newspaper clippings he kept showed titles: "A Young Man from Užice Won" and "Quite a Share of Poets". Noticed in meetings of poets in Tito's cities: Titovo Užice, Titograd, Titova Korenica. In Titov Veles, he bought a postcard to send it to someone. He'd begin writing and then, unsatisfied, tear the postcard and buy a new one, then tear it and start writing again. Perhaps that was how he wrote his poems in about fifteen collections he had published by 2019.
At that time, reading and remembering was different. One of his short poems is preserved on an invitation for a celebration, for example in Čačak. It was a prom night or reunion. Perhaps a wedding invitation. I remember the golden letters. On the front fold, instead of a flower or decorative vignette, there was a poem: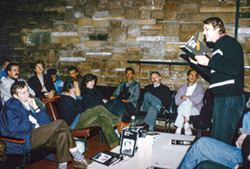 One night I waited in front of my house
for a swarm of fireflies to pass by
to ask them whether they know
the girl with a mantle of flowers
and if they do
to glow in her room
so she wouldn't wander away in her dream.
The poem became part of the Sun and Carriage collection, which was full of such pearls, created to be remembered and learned by heart. Manojle was writing poetry as if wandering through dreams.
The main motif of Gavrilović's early poetry was love. Sun and Carriage include love poems – simple, as if from scrapbooks, but fluid, full of mysteries and colors of the night, colors of imagination: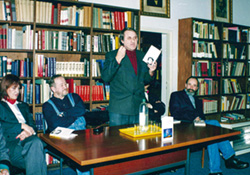 We colored winds in fruit
to recognize them in the night
Hers were blue, mine red
All blowing to me
"Departure in Fruit" – a poem about separation – takes place in the magic of blossoming in the orchard of the universe and being. It is a departure in which she and he divide a river, winds, birds, celestial bodies. In a later poem about separation in life and being, his father's picture appears. The lyrical subject takes only that picture from the shelf – as if it were a poetic image.
His most famous poem, "Prijezda's Love" is Gavrilović's lyrical interpretation of the famous folk ballad. His introduction to the motifs of epic tradition, as well as history.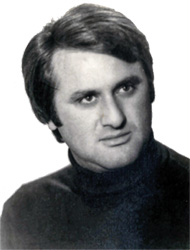 We were taking out a golden apple
from the Morava while springs were sweeping
cherries were blossoming around the neck
of the wonderful sweetheart of prince Prijezda
They jumped and the Morava was flowing
and they still did not fall into the depths
she told him something at dawn
the scents of waters kept them back
And now after many years
behold the prince turned into a bird
walking sadly along the bank at night
calling his sleeping Jelica…
We should imagine him reciting and depicting his poetry by moving his hands.
He decided to deal with Slavic, Carpathian, pagan mythology… Not far from it was St. Sava with his legends, from which the jagged Kosovo world and spirit, all the way to Karađorđe's era and Thessaloniki belvederes, was developed naturally, just as in oral tradition.
A ROBE OF VERSES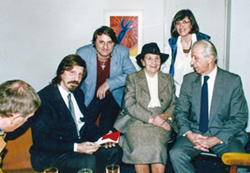 Manojlo's little brothers died in World War II and his mother died soon after them, early. He grew up with his father. He dedicated his first poem collections to his father Milomir, and later to son Milomir. His experience of his personal family transferred to poetic presentations of famous families from earlier visions and epochs: Ancient Slavs, the Nemanjić, Jugović, Mrnjavčević families, heroes of Kosovo, members of the Gavrilović family going to the previous century war – they were all galaxies of a lyrical remembrance – naïve presentations with elements of legends, folk painting and poetic iconography. Those families were clans with audible names and images, including sisters presented as birds, does, magical girls weaving wreaths and sweaters from flowers, rays of sun, dew, wind, sounds – not so often to their sweethearts or husbands, more to their brother, poet, lyrical subject. Those sweaters were the robe of Gavrilović's poetry. A robe of verses.
His compatriot Branislav Petrović had the biggest influence on his written poetry. But that was also only on rhetoric level. Brana was different in all aspects. He knew irony, Manojle knew emotions. Brana applied, Manojle interpreted.
The biggest strength of Manojle's poetry was poetic images and music. It navigated his words. The poetic vocabulary was relatively limited, but the coloring and context gave those words an expanded scope of visual, auditive, as well as semantic effects.
At the beginning of his poetic journey, he wrote that (in life and in poetry)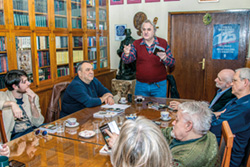 One should be similar to dusks
dreaming of golden birds on branches (…)
One should be similar to sunflowers
moonlight sleeping on a flower
Somewhere in the middle of this born poet's poetic journey, in his book Sunday in My Homeland, accidentally and unintentionally, he wrote another autopoetic poem:
On Sunday I will set off to my homeland
to pick verses along the road
There they are resting on hazelnut branches
there they are sitting on agrimony flowers
There they are murmuring on a white takisha pear
there they are dropping into dew from an apple
On Sunday I will set off to my homeland
to collect verses along the road
That is how, in that moment and perhaps his entire life, Gavrilović understood his poetry and the poetic procedure: verses (language, aspect, sensibility…) are growing in the homeland, the poet occasionally goes to pick them. They are sitting, resting, murmuring, dropping – they are alive, like beings, like natural phenomena… When placed in a poem or book, as if in a kind of a literary herbarium, the poet preserves them for a long time, perhaps even for eternity. (Perhaps that is how poems of ancient and later poets reached us! Most of all folk poems!)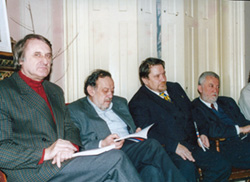 The homeland is the birthplace of poets and language is the birthplace of poems. In Gavrilović's poetry, language itself sings: his strophe and syntagma vibrate in sounds and rhythms of nature, as well as in folk music instruments, kolo dances, decasyllable verses, riddles and fables.
Once a boy asked Manojle's son Milomir why there were no interpunction sings, dots and commas in his father's poems, as in other books. Milomir asked his father and his father replied: It is a different language. The language of poetry.
He was one of the poets who considered poetry more important than life.
When his book Enchanted Fireplace was published, he did not have a bed in Studentski Grad campus. For his literary merits, he was given a bed on the ground floor, with some illegals, students who came and went, tired, slept and did not say a word… He took me there to give me a copy of his book. He took out a travel bag from under a bed, on which some strange guy was snoring, unlocked the padlock, then took out another bag, also with a padlock, and then a third one, in which there was a waterproof bag with a few copies of Enchanted Fireplace. Passport, his student ID, those were his valuables at the time…
Two or three days after he had given someone his book, he would ask: Did you read it? Is there an ingenious poem for anthologies?
He was genuinely witty, with a bit of humor from his hometown, with a bit of humor of his own. When poets asked him, somewhere near Kolarac, why the thin collection Sun and Carriage does not have a bookmark, he replied immediately: "My book is read in a heartbeat!"
He liked to laugh at himself. He used to drop by to Jež desk to remind them to play a trick on him, just like "they did to Kolundžija". He believed that jokes, humor and anecdotes increase a poet's popularity. Vitezović described him in an epigram:
Even before it dawns
He is with Steva on a glade,
Singing about the same blade of grass
Only from a different side.
There was no greater praise than this. And side by side with Raičković.
He spent his working life in libraries, first in the children library "Pinki" in Njegoševa and then in the big "Petar Kočić" library in Kalenić green market. Friends and poets gathered there. He was a true friend.
He entitled one of his poems' selections Golden Fountain. Verses and poems are flowing and murmuring from that fountain, like clear water, and cannot dry up.
THE LIGHT OF THE CYRILLIC ALPHABET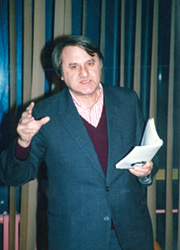 He had been writing for almost five decades. He gave his books of poetry particularly beautiful titles: Light of the Cyrillic Alphabet, Guardian of the Golden Apple, Black Blueness, Bees of God Perun, Slavic Dew. The Slavic world had never left him, and poetically understood St. Sava directly succeeded it:
Saint Sava on Vračar field
harvesting golden wheat.
He stacks the wheat by night
Saint Cyril is helping him
From every grain of wheat
a letter of the Cyrillic alphabet
is glowing.
Serbian national motifs and symbols became an obsession for the poet who was getting older. They lived and vibrated in winds, clouds, flowers in the skies and in the grass – the entire nature is singing and playing in evening colors and cosmic distances. Bright images sometimes resemble folk embroideries and naïve painting, and sometimes deep frescoes in rhetoric swings and questions: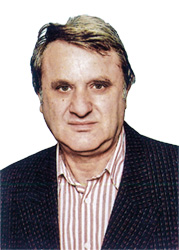 Is it a flag
or cloud
Is it the skies
fluttering in a hand
Is that the swathe
of red peonies flickering
Is that the three Moravas
hanging on a rope
Or is it Boško carrying dawn
tied to a lance.
He wrote more and more in his mature age, while interest in his poetry and poetry in general was decreasing… At one point, the educational authorities began moving and reducing Desanka as well… The custom or obligation of learning poems by heart was weakening and finally vanished and reciting and competitions in reciting – disappeared. I doubt that any advancement was achieved, I am more worried that it is a bad and imposed program.
Manojle felt and understood a lot. He wrote a poem about a (general) library in Croatia, where Serbian books were burned in front of cameras – and not only those in Cyrillic. In that flame, Manojle saw his favorite hero, St. Sava.
The "light" of Manojle's "Cyrillic" is not dwelling in his poetry books. With this text, I am reopening them. I will not let oblivion cover them, at least not mine.
And I repeat to myself:
If she stood in a desert
the desert would blossom too
These early verses written by Manojlo Gavrilović refer to both woman and poem, to poetry as such.
***
Biography
Manojle Gavrilović was, as we said, born in Bjeluša near Arilje in 1945. He became member of the Literary Association of Serbia in 1974. He worked as manager of the "Petar Kočić" library in Belgrade for many years. Manojle Gavrilović won numerous awards, including "Vuk's Award", "Response to Filip Višnjić", "Seal of the Town of Sremski Karlovci". He passed away on July 11, 2020, in Belgrade, at the age of 75, from Covid-19.
***
Books
Some of Manojle Gavrilović's poetry books we will mention this time are: Sun and Carriage (1973), Enchanted Fireplace (1975), Drums on the Carpathians (1979), The Light of the Cyrillic Alphabet (1988), Guardian of the Golden Apple (1991), Sunday in My Homeland (1994), Black Blueness (2011), The Bees of God Perun (2015), Slavic Dew (2017)...