Searches
RADOMIR J. POPOVIĆ' AND BRANISLAV STANKOVIĆ' PHOTO-MONOGRAPH PICTURE OF A LAND
Mačva in the Lens and Memory
Photos from Mačva from late XIX century to 1945. Lives and deaths, customs and celebrations, war and peace, building and destruction, folk costumes and furnishings, horse carriages and instruments. People and landscape in whirlpools of times and changes. This book has a great documentary, ethnographic and geopoetic value, enriched with a significant historiographic text. An exemplary undertaking of the "Janko Veselinović" National Library in Bogatić
By: Mihailo Goleški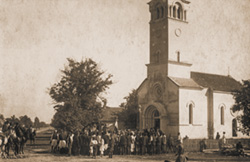 Mačva is a vastness with continuously changing borders, and even today they are "somewhere out there".
Mačva is a flatness which pleases the eye.
It is a clod of earth in palms put together, trembling like fear, fertile like the soul.
A picture with a wide frame, which one could pass through… and does not need to.
One can remain in that picture and dive into it. As if into a story… into a book.
Perhaps into the book of Radomir J. Popović and Branislav Stanković Picture of a Land, consisting of photos of Mačva from the late XIX century to the year 1945.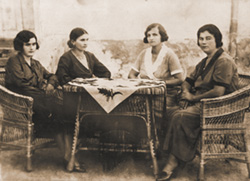 A photo image is the mysticism of a moment, stolen from a column through which time strolls indifferently. And when you place such pictures one after another… there's a story…
This is the exact story the authors told, tirelessly attempting to collect as much material as possible about the stated period. That story, that material and that period clearly show how much and in what way Mačva changed through time, with so many things that encouraged, scared, ascended and killed the inhabitants of this area.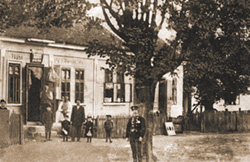 Authors ­indicate that the natural environment has influenced the mentality of the people of Mačva since the ancient times – their connection with the land, waters, forests, and subordinated their relation towards everything times imposed to them as difficult challenges. It often left a wrong impression about them in their wider surrounding. Vuk Karadžić even noted a legend about Prince Lazar cursing them because they did not respond to his invitation to fight in the Battle of Kosovo, due to sowing wheat. People of Mačva, just like other inhabitants of Serbian lands, were also exposed to frequent persecutions and migrations, already in the XVII and XVIII century, while settlers mostly from Herzegovina and Bosnia, less from other Serbian lands, took their place.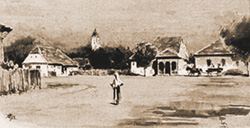 They became involved in the First Serbian Uprising very cautiously. They themselves contributed to the not entirely flattering news about their heroism, when, at the beginning of the Second Serbian Uprising, their serfs betrayed their voivode Stojan Čupić to the Turks. That, however, does not mean that they were spared from difficult challenges. They were struck by great suffering especially during World War I and II.
According to incomplete data, more than 5.000 soldiers from Mačva died from 1912 to 1919, and there were many crimes committed to civilians. One of them is the execution of 334 civilians, killed by the Austro-Hungarian army in Prnjavor and its surroundings in only two days in August 1914. Archibald Reis wrote about it: "In this ill-fortuned Prnjavor, nothing else can be seen except burned houses and mass graves, where distorted remains of all people, old men, women and children rest, victims of the bestial rage of kulturtregers."
REDEEMING THE FAINT-HEARTEDNESS OF ANCESTORS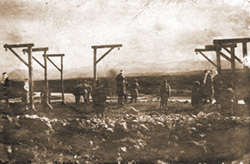 As later honorable citizen of Prnjavor, the only village in the Kingdom of SCS ordained with Karađorđe's Star, he also spoke at the opening of the memorial ossuary in 1922, visited by King Aleksandar in 1934.
A particular value of the book Picture of a Land is the presentation of villages of Mačva from the late XIX century, according to drawings of Czech postimpressionist Ludvik Kuba, as well as the picture of Mačvanska Mitrovica, testifying about the appearance of the town in the eve of World War I. In pictures from the time after the Great War, we see traces of gradual urban development in the villages of Mačva and the banks of the Drina, which established contours of specific rural and village architecture, urban and spatial development, unfortunately roughly terminated with the wave of new crimes, German, during World War II.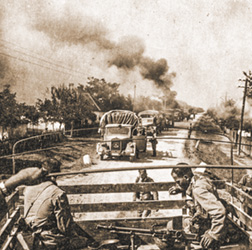 There is no complete data about those who died in that war either. The official number is more than 3.000 killed civilians and partisans, whereas victims among chetniks and anticommunists are not mentioned. Using authentic photos, Radomir J. Popović and Branislav Stanković show the proportions of German crimes, especially among civilians.
With its visual effect, the monograph reminds of great authors from Mačva, such as excellent historian Miloje S. Milojević, great writer Janko Veselinović, for whom his grandson Janko Tufegdžin, also writer, said that he "redeemed the faint-heartedness of ancestors" with his Haiduk Stanko,and made Mačva "the most idyllic land in which only heavenly souls live".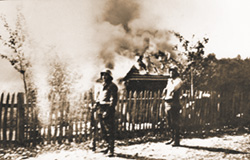 Faces of many unknown people of Mačva, whose features, posture, medals on their chest, reveal a particular character of a Serbian peasant and fighter, give a special charm to the book. Thus, the photos of Salonica fighters from Mačva add particular value to this segment of the book. Although there are only a few of them, especially interesting for historians will be photos of Ravna Gora fighters from Mačva.
Women of Mačva, due to difficult challenges in life, often took over the role of heads of the house. They performed their role in a "manly" manner, also keeping the distinct charm of then women, with their moderate posture, way of dressing, restrained smiles of young girls, stability of mothers and resoluteness of warriors. The authors gave them the place they deserve.
MORE THAN A MEMORY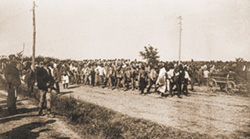 We can only assume what great gift was a photo from their wedding or at least a family picture for many newlyweds at the time. Such photos are always more than memories. They are testimonies about how they approached the ceremonial act and the seriousness in standing before a photographer. Obviously, they were all aware that the picture is a message for the future and that someone might interpret them through it. Same could be said for common pictures of family cooperatives, which continuously separated since the second half of the XIX century.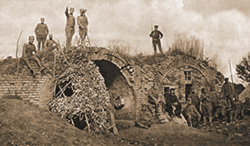 The authors achieved a complete presentation about Mačva of those times by offering us an encounter with garments and ornaments of folk costumes. Traditional clothes were dominant by the 1880s, when the Austrian influence became dominant. After World War I, elements of urban dressing began penetrating folk costumes, and some pictures show that many girls were very interested in sewing courses organized in many villages after the Great War.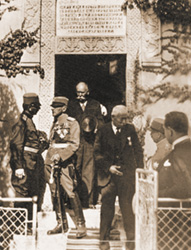 A work such as the Picture of a Land monograph, could not be completed without contours of local architecture. Villages in Mačva were built along roads (sor settlements) already at the time of Jevrem Obrenović. Local architecture is marked by wood and soil and developed from a single-part corb at the beginning of the XIX century, to houses built of adobe and brick, made with much style in rich families. Even today, in many places, we can still see wooden sheds, often used in the past.

The houses included mostly homemade objects – bags and harnesses, wooden bowls, dishes for drinking water, built-in furnaces. Barns, granaries and auxiliary wooden buildings were built around houses. Richer families had tubs, primitive wooden pumps for irrigation, looms and horse carriages.
Churches began being built in Mačva in the XIX century, as wooden lodges or šeperuša (made of mud, clay, osier), which deteriorated after a few decades, so new ones had to be constructed. At the end of the century, there were already churches made of solid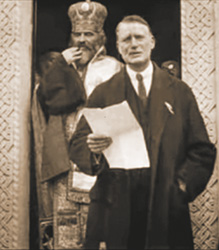 material in many villages of Mačva. Schools, which did not exist at all until the 1820s, had a similar architectural evolution. At that time, Jevrem Obrenović, "together with the people", erected the first schools in Bogatić and Glogovac. By the end of the century, the educational authorities emphasized that "the county had the most beautiful school buildings", and in the eve of World War II, every village in Mačva had a school. Girls also attended schools, not only boys. In the architectural expansion between the two wars, the court buildings, district administrations, agricultural cooperatives and municipality buildings were erected.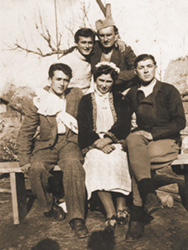 Public gatherings were always favorite for most people, even in Mačva at those times, whether they were local celebrations, visits of famous people or later political rallies. Special attention was always paid to family saint celebrations, as well as weddings and funerals. Those pictures are important not only for the ethnographic moment, but for evaluating the psychological profile of people of those times.
Sport was developing in the Mačva area in accordance with actual trends. Already after World War I, football became growingly popular and, as stated in then newspapers, provoked fierce conflicts among fans. The Sokol movement began developing in the thirties.
And so… step by step through time, with Radomir J. Popović and Branislav Stanković. Each step has its name, depending on where the foot steps… Bogatić, Štitar, Prnjavor, Crna Bara, Klenje, Lipolist… and so on…

***
Great Effort
The book "Picture of a Land. Mačva in Pictures from the XIX century to 1945." was published by "Janko Veselinović" National Library in Bogatić in 2020. The editor is Branislav Martinović, reviewers Aleksandra Vuletić, PhD and Bojan Dimtrijević, PhD. It consists of "Scenery", "Men and Women of Mačva", "Buildings", "Family and Public Events" chapters, and equipped with a complete scientific apparatus. "The pictures presented in this book", state the authors, "were collected during research in archives, museums, libraries and fieldwork. Most of them are authentic. Only pictures of garments, tools, houses and auxiliary objects are from a later period, but they speak about the times which are subject of our interest in this book."
***
Culture of a Land and Its Type of Man
"Why Mačva and why the stated chronological frame? Mačva, because it is a unique cultural area with recognizable specificnesses compared to neighboring regions, Jadar, Pocerina, Semberija and Srem – not to mention Šumadija or Resava. The rural characters of this area created "the culture of soil" during centuries – otherwise characteristic for the entire Balkans – which "psychologically and economically" shaped the people of Mačva. (…) The primary purpose of this book is to show the dynamics of changes on the example of Mačva as a Serbian rural area in a period of time a bit longer than half a century. Those changes are visible in the way of dressing, buildings, public events, while, on the other side, traditional norms and forms of social organizing still survived, which is, again, visible in the way of dressing or funeral ceremonies. (…)"
(From the Introduction of Picture of a Land)
***
Three Freedom-Loving Values
"In the Mačva (Serbian) villages up to 1945, priest, serf and teacher personified three freedom-loving values (religious, political and educational) for which the Serbian nation fought for and won in the Serbian Revolution in the first half of the XIX century. The liberation of the land and revolutionary coup in 1945 created an entirely new social-economic situation in Serbian villages, with imposed and strong ideological rejection of tradition."
(From the Introduction of Picture of a Land)