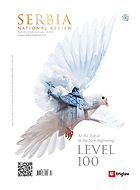 SERBIA - National review, No 100


Prologue
Metropolitan Joanikije saw in it "both beauty and goodness", Dragan Davidović and Dejan Đorić saw "an encyclopedia of bright Serbia", Dragan Nedeljković saw it as "a remedy and encouragement". Milovan Vitezović considered this "the most Serbian magazine today", while Ljubivoje Ršumović compared the hundredth issue to Mount Everest. Dragan Hamović sees our magazine as "a source of driving forces", and Jovan Pejčić believes that at the foundation of everything lies "identity as a value".  Behind it all, says film director Dragan Ćirjanić, "are the descendants of those who fight"...
The main theme of the hundredth issue of the National Review is the National Review. You will see why.<




CONTENTS
Introduction
The Best Years
Summary
NATIONAL REVIEW "SERBIA" AND ITS UNPRUNED CANOPY
Level 100
Applying our "magazine book" formula, we created more than 32.000 magazine pages, published about 20.000 photographs, traveled more than two million kilometers in seventeen years. From our tree, a production of representative editions about Serbian lands branched, as well as the TV show "Golden Apple" and application-guide "Meet Serbia". Our editions reached very unusual libraries, such as the one belonging to Vladimir Putin or Bob Dylan. Our principles are the same as they were at the beginning, but we are not. We matured
Album
ABOUT THE COVER PAGES OF NATIONAL REVIEW
Portrait in the Mirror
The path of National Review, all our quests and changes, are visible on its cover pages. It is our portrait and mirror, what craftsmen used to call the master's letter. We contribute this small reminder to the hundredth issue of National Review
Hundreds
ON THE OCCASION OF THE ANNIVERSARY EDITION OF THE NATIONAL REVIEW
That better Serbia
A word about the National Review: Metropolitan Joanikije, Dragan Nedeljković, Milovan Vitezović, Ljubivoje Ršumović, Dragan Lakićević, Jovan Pejčić, Dragan Hamović, Nikola Malović, Dragan Ćirjanić, Jovan Plamenac, Žarko Dragojević, Nađa Tešić, Mikan Aničić, Dragan Davidović, Dejan Đorić, Aleksandar Lazić, Aca Seltik, Gojko Raičević, Mirjana Kusmuk, Sandra Gagić, Nataša Veljković, Goce Simonoski, Ivan Mihajlović, Mihailo Medenica, Milorad Pavić, Momo Kapor
Top
WITH NOVAK ĐOKOVIĆ IN NEW YORK, ALONGSIDE THE 100TH ISSUE OF THE NATIONAL REVIEW
A Postmodern Hero
He is not just a sports leader of an era, a tennis record holder in terms of trophies won, now unrivaled, but also a messenger of a better time and, hopefully, a more humane society in which profit will not be the axiom of life and an excuse for everything
By: Mišo Vujović
In the Frame
BEHIND THE BEST SHOTS, THERE IS ALWAYS SOMETHING ELSE
Storytelling with a Camera
It was a long and interesting journey: from a boy who is afraid to pass through the village for fear of dogs, to a vagabond who wanders alone at night through wilderness of Old Mountain. We asked the most experienced photographer of National Review, who has been with us since the beginning, to make a selection of photos that are particularly dear to him for the hundredth issue and share the stories behind them. That is how we learned that Kalemegdan sunsets are more beautiful than those of Sounion, we read from the face of old Tadej and Patriarch Pavle, we listened to the bagpiper on the Devil's Stone, we spun the wheel of shadows in Leskovac, we learned about lapot in the Torlak dialect...
Text and Photo: Dragan Bosnić
Different
THREE SHADES OF BLUE ON THE PALETTE OF OUR AMELIA POULEN
Eye on the Road
One of the youngest among us, with two university degrees and a lot of imagination, wrote to us in past years from Vienna, Amsterdam, Berlin, Sicily, Thailand, Lake Como, as well as from various parts of Belgrade and Serbia. She sought out the most creative and lucid, from street art to all kinds of high-flyers, and taught us a special travelling skill. And now, especially for the hundredth issue, she researched the nature of the water in Lake Tavnica, the island of Koh Chang near Sremski Karlovci, and Kalemegdan under the sea near the town of Monopoli in the Italian province of Puglia
By: Dragana Barjaktarević
A Bit of Everything
A HANDFUL OF GRAINS FROM THE SADDLEBAG OF AN OLD JOURNALIST
Collection of Big Trifles
He is one of the last sprouts of the old school Belgrade journalism, the best one, and it's not easy for him in this epoque of text loaders. Curios and a vagabond, a kafana narrator who knows how to keep your attention, writer of magical books printed in one copy and given away to his small grandson on Vidin-kapija, always brought us incredible, simple stories. Those that light up. This time, especially for the hundredth issue, we made him turn his bag inside out and search through his notes. And arrange the most wondrous pieces he finds into one text. Of course, not everything could fit in
By: Miloš Lazić
Gatherings
IN BOGOŠTICA, THE RAĐEVO HOME OF SERBIAN POETRY
The Path of the Poets
They have been gathering for nine years, always around St. Mary Magdalene's feast day, in the unique poets' home named after Desanka Maksimović. Over two thousand visitors, over a hundred participants so far. There is no snobbery or competition, there is more brotherhood than marketing. Everyone choses their words carefully, making eye contact. A poet from Majevica gave them gifts: smoked cheese and white wheat flour. The storm was raging in Serbia that day, but there was no sign of it here. The anti-hail system did not work, but the poets did their magic. And so unscathed they landed on the lapel of our hundredth issue
By: Bane Velimirović
Stradija
RADOJE DOMANOVIĆ (1873–1908), A CENTURY AND A HALF LATER
The Writer Who Changed the World
It is not about laughing, it is about fixing things. Sometimes cheerfulness in front of the monsters, mild causticity or painless stinging will suffice, but hot herms must be used for hot wounds. He did not allow himself to be swallowed up by mediocrity and cheap entertainment, small calculations and large pests, to be discouraged by arrogant regimes and wicked informers, kings with a diagnosis and blind leaders. He loved Serbia and justice too much to remain silent about them. And that comes with a price, and it is never small. Expelled from office, punished and denounced, more hungry than full, he lived only thirty-five years. But his satire lives on today, one hundred and fifty years later, painfully relevant
By: Nikola Kovačević
Testimonies
WRITER SVETLANA VELMAR-JANKOVIĆ (1933–2014) WITH THE STUDENTS OF THE BELGRADE SCHOOL FOR TOURISM AND HOSPITALITY, IN THE AUTUMN OF 2004
Table as a hearth
Within the "Lunch in Belgrade" project, the renowned writer spoke to the students about her childhood, family life rituals, food preparation and serving, favorite dishes and sweets, rules and games, as well as the difficult wartime and post-war years. In the 100th issue of National Review" on the occasion of Svetlana Velmar-Janković's 90th birthday, this interesting material is presented to readers thanks to Grozda Pejčić, a Serbian language professor and the coordinator of these activities for nearly two decades
Old School
BUCA MIRKOVIĆ (1932–2013), POET, CRITIC, EDITOR, ONE OF THE SILHOUETTES OF THE BEST BELGRADE
Professor from the Kafana
Inevitable in the most significant places of Serbian culture of his time, star of "Madera", he was writing for more than sixty years. Writer and narrator with light words, picturesque and eloquent, conversationalist, he knew how. He was not afraid, and the one who is not afraid hits the most. He knew about all kinds of orders and considered himself more important for others than for himself. His bibliography is enormous. Conspirator of poetry, both Serbian and international, expressionist in criticism, lifesaving furious and witty, he himself wrote the poetry he requested from others. It is exactly ten years since he had left. There are less and less those he still keeps in touch with from beyond, from mythical Župa, his Oceania
By: Dragan Lakićević
Life, Novels
POET MILOSAV TEŠIĆ, LEXICOGRAPHER AND ACADEMICIAN, GUARDIAN OF THE SERBIAN KEY AND CODE
If We Care about Us
Our language and alphabet, culture and self-awareness, state and sovereignty, city and village, word and ethics, faith and will, are dramatically endangered. The crucial verticals of self and preconditions of survival. Our talents are turning into ill fate, signs of destruction are rushing. Antichrist is surging accompanied with legions of "new normality". He is scything. Plutocratic-totalitarian and corporative groups are bringing everything under their control, wickedly and recklessly. (...) As utopian as it may seem at the moment, only by relying on healthy foundations in our own tradition and culture, we can retrieve our self-respect and self-assuredness, preserve our being and individuality, survive
By: Branislav Matić
Scene
SCREENPLAY FESTIVAL IN VRNJAČKA BANJA, FORTY SEVENTH
Annual Review
The award for the best film went to "Who's Alive, Who's Dead" by Rado Ćosić and Marko Backović. The award for the best screenplay went to Radiša Rok for the production of "Guy and Girls". The "Golden Pen of Gordan Mihić" was awarded to Đorđe Milosavljević, and the "Golden Coin of Emperor Constantine" to Ivan Bosiljčić. The best debut actor is Stefan Jevtović. A rich accompanying program is also a feature of this year's Festival
Champions
THE BEST SERBIAN ATHLETES ALWAYS IN THE NATIONAL REVIEW
School of Life and Virtue
He hosted the last news in Serbian at Radio Priština, in June 1999, before another Serbian Great Expectation. God willing, he will also lead the next ones, when the day comes, when the hour strikes. In Belgrade, too, he is a respected radio journalist, editor, mostly in the sports column. UFor the National Review, he has been publishing interviews with people from sports for years. For this occasion, for the hundredth issue, he recalled many of those conversations with great champions, the circumstances in which they were conducted, as well as some memorable messages
By: Dejan Bulajić
Guide
IN AND AROUND THE "FRUŠKA GORA" NATIONAL PARK, NATURALLY AND SPIRITUALLY
Island in the Sea of Grain
Everything here is blessed, on this, they say, former Pannonian island. Plants and animals, settlements and hunting grounds, lakes and viewpoints, paths and caves, spa resorts and streams, above all people and sacral-historical heritage. And the real framework for all that is the "Fruška gora" National Park, declared in 1960, on almost 26 thousand hectares of active protection. And all that is within reach of Novi Sad and Belgrade, within reach of highways and railways and waterways, within reach of you
By: Mihailo Goleški
Care
A NICE SUMMER FULL OF CONTENT FOR THE YOUNGEST RUMANS
Refined Childhood
On the water, in Borkovac, they swam, learned and had fun. Programs that are "full to the brim", but interesting and not overly demanding. In the "Return to Nature" camp, without phones and networks, they explored, mastered skills, and socialized around the campfire. "Vrelo" and "Pogrešno skretanje" played music. And in Boka, in Baošići, selected children from Ruma and all sixteen of its villages went to the sea at the expense of the municipality, many of them for the first time
Examples
"EVO RUKA" ASSOCIATION, SUPPORT FOR CHILDREN WITH DEVELOPMENTAL DISABILITIES
Endless Battle
Mothers of children with developmental disabilities fight unusual, visible and invisible battles every day. A sick child and the family that cares for him need a lot more than one person. The association "Evo ruka" found many ways and designed specific projects to help. Now they operate in Zemun Polje and Zemun, soon they will also be in Nova Pazova, but they share their knowledge and experience with everyone who needs it
By: Aleksa Komet
Accomplices
FROM "MERKUR", ALONG THE HUNDREDTH ISSUE OF THE NATIONAL REVIEW
On the Same foundations
We have been fellow companions and collaborators for so long primarily because we believe in the same values. Proven old values passed down and tempered through generations, those values we call tradition, plus modern methodology, the most up-to-date knowledge and technology, the best fruits of our time. The intersection of what God and nature have given us, such as the beauty and healing properties of Vrnjačka Banja, with the effort and skill of people
By: Dr. Dejan Stanojević