Prologue
QUESTIONS WE OWE OURSELVES
Rings


A year has passed. Another one.
It rolled away like a pebble down a slope, scraped by our feet.
Can you state all historically significant events we left behind and in front ofourselves during the year? "History has not stopped crushing us; we have not stopped producing it." Do you feel that terrible acceleration of time and condensation of events, do you recognize it through an avalanche of useless and most often meaningless information they bury us with as if in a grave? Oh, how many epochal declarations, crucial sessions, voting of decisive importance for the future in which you, yes you, can make an irreparable damage! How many apocalyptic announcements, utopian sugar waters, advertisements for fulfilling all our most hidden wishes! How many matches of the century, events of the decade, dramatic affairs with out favorite public stage heroes as central figures! How many games of chance in which all our dreams will finally come true!
There were so many of them, that we completely forgot the ones from previous seasons, almost entirely the same.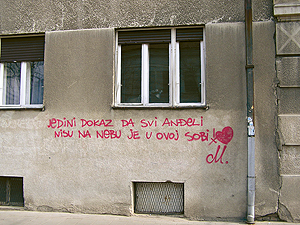 Below and amid all this is our life and this is not the general rehearsal. Therefore, at least once, when you are alone, take the remote in your hands, press the red button and, at least briefly, quiet down the Gadamer monster. And then, in the suddenly emerged deep silence, ask yourself: how many times during this year did you say "I love you" to people you love? Did you really do everything in your power to make your own life more beautiful, more in harmony, happier? Did you recognize the good, the noble, the interesting around and in yourself, or did you, as usual, just add black to the darkness? Did you admire what deserves to be admired, or did you exaggerate the ugliness of the world and spit on everything from your comfortable chair? How many times did you stop when you hear an enchanting melody, tumble a long forgotten verse in your head, take a long and seemingly aimless walk by the river? How many times did you secretly turn after a beautiful woman (man), how many unforgettable pages did you read and how many unforgettable landscapes did you see, how many unusual dishes and good new wines did you try, how many times did you supportively wink to someone who finds your understanding precious? How many candles did you light for others and how many prayers did you whisper? Did you take more or give more?
How many times did you ask yourself all this?
Hm?
Cheers! Happy New Year!