Ars sacra
MIODRAG ZUBAC, PAINTER OF GOD-SEEKING IMAGINATION
Magical Light of Primal Experience
If the painting is sincere and true, it is deeply personal. This determines its artistic strength. Sincerity and truthfulness are the precondition of beauty and are more important than it. Miodrag Zubac found an almost ideal point of existence for his art, between figurative and abstract, surreal and traditional, monstrous and divine. His painting is deep contemplative silence, calmness after the Big Bang, cognition with sparks from the greatest depth
By: Jovo Bajić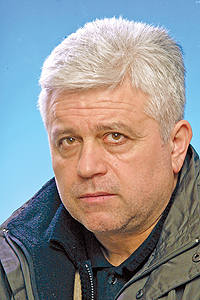 Blue and gold are colors most often seen in Miodrag Zubac's paintings. Blue is the color of the soul, and gold of wisdom. These two colors also signify Byzantine painting. Naturally, there is a great difference between Byzantine sacral painting and Miodrag Zubac's artworks, and not only in terms of time. They are however related by the light radiating from the Byzantine icons as well as from Zubac's paintings. There are also common motifs, such as the cross.
Zubac's artistic expression, developed on the turn of the XX and XXI century, has the features of Fantastic painting. It is on the border between real and abstract, with strong elements of Magic Realism.
When he started painting professionally in 1990, art critics accepted him well and supported him. He went through different creative phases, worked hard, painted many paintings. He received numerous awards and is still receiving them. This year, for example, he won the city of Arandjelovac award for his contribution to painting, specifically important to him because he was born in this city and grew up with the Arandjelovac artistic manifestation "Marble and Sounds". Zubac is also one of the founders of the prestigious Arandjelovac Art Colony "Orašac". The crown of this year's successes is the just finished exhibition of Zubac's drawings entitled "Metamorphosis" at the City Gallery "Balkan Bridges" in Kragujevac, one of the most prestigious in the Balkans.
LANGUAGE OF ARCHETYPES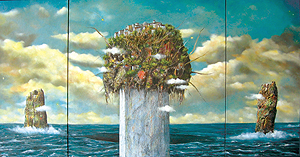 – A painting must be sincere and true. It is my main motto – says Miodrag Zubac for National Review. – Sincerity and truthfulness are two terms dependent on one another. If the painting is such, it is deeply personal and this determines its artistic strength. Sincerity and truthfulness are the precondition of beauty and are more important than it.
If it satisfies the requests of truthfulness and beauty, the painting must carry intuition and contemplativeness, which the famous art critic Sreto Bošnjak also noticed: "Miodrag Zubac is approaching an archetypical language model with which one can only enter the pre-logical, poetic areas of a being. Zubac is a painter of fine imagination and deep intuition, often in the power of the subconscious. Therefore the sights he paints are surreal projections of a magical light of primal experience. Therefore his paintings carry a strange seal of mystery…"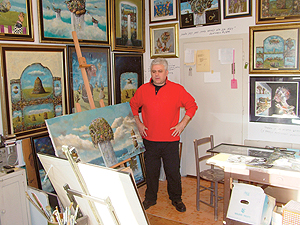 Zubac processes his fantastic-real world, result of his whole experience, into silence and symbols, somewhere between Arandjelovac and Belgrade. He was born and raised in Arandjelovac, that is where his home is, and in it the studio where most of his paintings were created. He studied in Belgrade, a city he is strongly connected to, where he still finds spiritual challenges. He graduated from the Faculty of Philosophy (hence his tendency towards contemplation), but never in his life has he separated from his painting notebook and colors. For a while he was both a professor and painter, but in 1990 painting prevailed.
He had his first significant independent exhibition in Belgrade, in the House of Djura Jakšić in Skadarlija. Art critics, who greeted this exhibition with praises, brushed away all his fears about whether he was on the right track. Afterwards he held seventeen independent and over a hundred group exhibitions in the country and abroad. Besides, his paintings were exhibited in many prestigious galleries and he participated in more than a hundred humanitarian actions and art colonies. He mostly uses the techniques of oil and acrylic, while lately he is becoming more attracted to drawing.
ABOUT STONE AND TRANSIENCE
Zubac began his painting adventure relatively late. The reflection of our lands can be anticipated in his paintings, with a fine accent on the national and Orthodox.
– Art is always personal. It is most ideal when works of art follow the artist and resemble him. My painting and my understanding of art therefore opposes the new global pseudo-aesthetics called new age, since it attempts to flatten and cancel the immense richness of differences and uniqueness of each genuine personal expression in art – says Zubac.
He is amazed with the painting of Dado Djurić and Francis Bacon. He respects Sava Šumanović and Petar Lubarda. Essays of Bela Hamvas offered him answers for some crucial existential and philosophical questions, while lately he has been reading the works of Russian God-seekers. Music of the wondrous artist Vangelis, whom he has been listening for decades, influenced his artistic sensibility.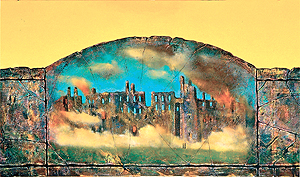 After the exhibition in Mladenovac, a visitor showed him Bela Hamvas' essay "Ecstasy of Stone". After reading it, he understood that everything is subject to transience, even stone, the symbol of persistence. Even the "stone of wisdom" which the medieval alchemists spoke of is subject to change, crumbling and disappearing. The fact that Zubac's ancestors are from Herzegovina probably contributed to his obsession with stone, since deep inside he remembers those rocky landscapes. That was one of the reasons for his painting cycle Secret Life of the Stone.
Our respectable painter and art critic Dr Milija Belić also noticed Zubac's connection to stone, and said that the stone "appears both as a primordial symbol of materialism and as the first incarnation of the spirit, whereas the spirit is the residence of the whole universe. Regardless whether it is a stone – stone, a stone form, a tombstone, stone – gate, stone – nest, or a painted stone icon…"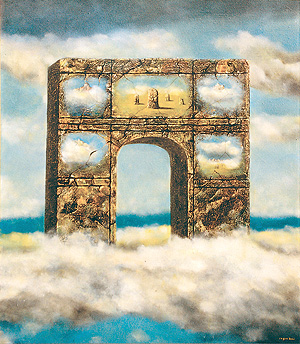 While he was painting a cross during one art colony, a nun from Manasija who liked his work approached him. In 2006 he was invited to the medieval monastery, where he painted a cross and gave it to the Monastery as a gift. Since then, the cross often appears as a symbol on Zubac's canvases. For him, it is a miracle of metamorphosis, symbol of love. In the horizontal of the cross he senses the human, in the vertical he senses God, while altogether it represents the symbol of resurrection, without which everything would be in vain.
While dealing with eschatological issues, Zubac created new cycles of paintings. The cause for the cycle Up, Above the Clouds were photographs his friends brought him from the Greek monasteries Meteora. One art critic noticed that the moment of silence after the big bang was caught on his canvases from this cycle. Then followed the cycles: Final Residence, Before the End of Time, Large Flying Crawlers. In each of these cycles, he attempted to ask or resolve one existential question using painting means. The Russian God-seeker Nikolai Berdyaev, in his work Meaning of Creation, equals creation with ascetics. If an artist approaches his work ascetically, if he develops normally, he must reach God.
Miodrag Zubac also sank into such deep artistic ascetics.
***
Exhibitions and Awards
Miodrag Zubac (Arandjelovac, 1951) is a member of the Association of Fine Artists of Serbia, Art Forum and many other associations of fine artists of Šumadija and Serbia. He held significant independent exhibitions in prestigious galleries in Arandjelovac (1986, 1989, 1990, 1994, 1997, 1998), Belgrade (1992, 1998, 2000), Kragujevac (1994, 2008), Sombor (2007), Mladenovac (1994, 2005), Velika Plana (1994), Ub (1996), Sopot (1994).
Among numerous awards, some of the most important are "Golden Seal" of the Association of Fine Artists of Belgrade (2004), Art Colony "Selters" Award (2004), "July Award" of the city of Arandjelovac for his contribution to fine arts (2008).
His paintings can be found throughout Serbia, with many art lovers, as well as in galleries and museums. Some of them are also in the USA, Canada, Sweden, Bulgaria, Canary Islands.
***
Ninth Heaven
This is how Dejan Djorić, art critic, characterized Zubac's painting:
"Finding a nearly ideal point of existence for his art – between figurative and abstract, surreal and traditional, monstrous and divine – with the name Deep Silence Zubac almost manifestly defines his poetics. Indeed, it is what painting really is – deep contemplative silence, cognition with sparks from the greatest depth. That philosophical, unearthly to be more exact, meaning of painting in Zubac's artwork is also formally present. The gates of the world, tombstones, white monoliths, monuments, paradise gardens, holy crosses, monuments and symbols of not only some disappeared cultures, but more presentations of ancientness, the Ishtar of the Danube and the ninth heaven, monsters and the secret of the stone's life which Michelangelo spoke of, make these paintings keys, codes for transferring into other, higher realms of the being…"