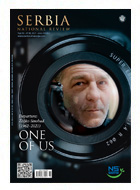 SERBIA - National review, No 88


Prologue
"Man is like a living camera that, shooting with his senses and heart and soul, feels with all his being that the world is not only continuous but also an infinite film of dramatic surprises." We were reminded of these words of Saint Justin Ćelijski by a critic, writing about the excellent Orthodox film The Man of God, a Greek-American co-production, directed by Jelena Popović from Belgrade. The film recounts the life and feat of Saint Nectarios of Aegina. We have been waiting for such a film for a long time, too long. We waited for the new issue of the National Review for exactly we should have waited. And we believe it was worth it. Check it out. <




CONTENTS
Introduction
Addition and Subtraction
Vitrage
NUMBERS, EVENTS, INTERESTING THINGS
Album
A COMMON SUGGESTION FOR AN UNUSUAL SUMMER
Serbian Ethno Villages
Paths
SMALL CONTRIBUTIONS FOR THE CULTURAL HISTORY OF DIVČIBARE
Plateau of Clear Horizons
They say that this mountain resort is closest to the capital city and Vojvodina. Guides will talk about winter, mountaineering, health, sports and recreation, hunting, excursion tourism… But, only a few will tell you that this is where Bela Hamvas' famous "Scientia Sacra" was translated and Darko Tanasković's "Neo-Osmanism" written. That Bata Mihailović and Ivan V. Lalić spent their childhood and part of their youth here, that Dragoslav Mihailović, Živojin Pavlović, Vladeta Janković, Stefan Milenković have houses here and that Neda Arnerić, Miki Manojlović… used to visit here often
By: Bojana Nikolić
Sources
DORMITION GATHERING OF POETS AND PAINTERS IN KOSOVO
An Even More Expensive Serbian Word
They came from all Serbian lands, for the twenty-fifth time. Unconditionally, following the invitation which had never been refused, not even in August 1999. The "Sokolica" International Cultural Event had its art colony and poetry meetings. The programs took place in Zvečan, Mitrovica, Banjska, Sokolica, Grabovac. "I came here to show how important Kosovo is, and that nothing should be too difficult for us regarding Kosovo", said Matija Bećković, this year's winner of the Sokolica "Poetic Dormition" in Banjska. We shall live to see the freedom of Kosovo, because, finally, it depends on us. If we exist, Kosovo will exist too"
By: Bane Velimirović
Visit
IN ARMENIA, THIS DIFFICULT YEAR, FILLED WITH WOUNDS AND DISAPPOINTMENTS
The Healing Properties of Ancient Memories
Everything here is from antiquity. The state, faith, legends, destinies. As a legacy from the Soviet Union, the Armenian province of Artsakh (Nagorno Karabakh) remained under Azerbaijani rule. During the war of the 1990s, as Armenians say, it was liberated. But in 2020, in just forty-four days, almost all of Nagorno-Karabakh came back under Azerbaijani control. What remained in Armenia, are full cemeteries and a lot of bitterness and doubts. The pro-American government in Yerevan, imposed by the street, is trying to attribute its disastrous balance to "Russian betrayal". Is that really the case and will they manage to convince the Armenians themselves?
Text and Photo: Mišo Vujović
A Gig
NIŠ JAZZ FESTIVAL, TWENTY-SEVENTH, ANOTHER HUB OF GOOD SOUND
The Island of Music
A Dutchman came to the festival and asked the taxi driver if the sea was far from the city. He was confused by the heat, the atmosphere, the vibration, who knows. And on the fortress and the smaller stages around, the quality was not lacking. More than 250 concerts were played, about 300 programs were presented, with about 800 performers. All this was witnessed by over 200,000 people. But it's not a matter of numbers, they can be deceiving. A lot of mastery, dedication, playing with styles and new connections were seen. Whoever came to enjoy, feel, learn, follow, explore – he came for a reason
By: Slađana Ristić
Departure
ŽELJKO SINOBAD (1962–2021): STORIES IN PICTURES
Mr. Photographer
Descendant of those from Sinobad Glavica in Knin, from the old Krajina sort, yet born in Belgrade, he did not become famous by taking pictures of celebrities. His focus was always on ordinary people, with their pain, suffering, fears or hopes, sometimes joys. Seven days before his departure, he posted his self-portrait from the hospital on social networks, looking worn out and exhausted. Someone asked: why? He laughed and said he wants to save his friends from asking the meaningless question: how are you? It was his last picture and his last laugh
By: Miloš Lazić
Old Masters
UNFORGETTABLE POET AND PHILOSOPHER (1937–2002), A THUNDERING VOICE THEN, A UNIT OF MEASUREMENT NOW
Brančilo
He believed that poetic gift, as well as birth and life, are a miracle of spirit and mind. It was known that every word of his was thundering against mediocracy and rigidity. He spoke now as a philosopher, now as a child, today a peasant, tomorrow a gentleman. A person made for schoolbooks, and at the same time sorcerer of a kafana tribe. Hundreds of anecdotes are told about him. His poetry seems to be written by itself, his poems simply entered the ears. They say he was "the most natural phenomenon of modern Serbian poetry". He was truly the one and only
By: Dragan Lakićević
Life, Novels
JOVAN PEJČIĆ, LITERATURE AND CULTURE HISTORIAN, ABOUT TIMES AND SERENITY, HARMONIES OF LIFE AND WORK
We've Got Our Roots
One prepared for life, work and sacrifice by the St. Sava and Kosovo vow will forever stand above transient interests and daily calculations. Only words-symbols show the fullness of Being, strength of Name, beauty of Truth. Genuine Serbia speaks that language. The greatest day in the life of poet Milan Rakić, the one in Gazimestan in 1912, is still a measurement for all of us. Comedies are one-time and do not repeat, tragedies are permanent and return. Belgrade, with its ingenuity and fate, could not survive if it weren't a natural and deep focus of literary imagination
By: Branislav Matić
Winner
DUŠAN MANDIĆ, MEMBER OF THE CHAMPION AND LEADER OF THE NEW GENERATION OF SERBIAN WATER POLO
The Golden Traces Squad
You cannot cheat victory, especially not the one over the greatest rivals. You are either up to it or not. With your character, will, faith, calmness when necessary, explosion when needed. The fact that we had it all that proves that we were a supreme team with a great heart. Traces are deep and we should follow them. It will not be easy for the new generation, it takes patience and courage, a lot to do, but the successors will certainly not bring into question the ranking achieved by the golden boys
By: Dejan Bulajić
Examples
SERBIAN PARALYMPIAN DRAGAN RISTIĆ, GOLDEN SHOOTER, AND HIS GOOD NEWS FROM AFAR
Hits to the Point
"After that horrible March morning, I was admitted to the Orthopedic Clinic in Belgrade as a quadriplegic... Sport transformed me, returned meaning to my life. We are lucky that the state also recognized the importance of Paralympic sports, supporting it crucially. Of course, without the family, without the support of parents, and wife, and six-year-old son, I could not achieve anything. I am very glad to be able to give back, to everyone, with excellent results"
By: Aleksa Komet
Templates
PROGRESS IN RUMA ACCORDING TO WELL-DESIGNED FORMULAS
Proven Development Directions
A new kindergarten for 280 children, free preschools and textbooks for primary school students, co-financing the replacement of old joinery, solving the decades-long issue of proper waste disposal, introduction of district heating on natural gas, new streets and tree lines, landscaping of the city ... Ruma is a municipality that continues with rapid development and renovation. And that, of course, would not be possible without the momentum of the economy and a strong economic foundation
Perpetuation
HOMELAND MUSEUM IN VRNJAČKA BANJA AND ITS COLLECTIONS
Guardian of an Important Heritage
The museum operates within the Cultural Center of Vrnjačka Banja. It has an archaeological, ethnological, historical, cultural-historical, fine art, applied art and natural history collection. It stores artifacts, documents and memory from prehistory and ancient times to the present day. The culture of true historical peoples rests on such institutions
Health
SCIENTIFIC TESTING OF WATER FROM THE SPRING SNEŽNIK IN VRNJAČKA BANJA
New Medicinal properties
"Merkur" presents the results of three years of research initiated by the Faculty of Medicine in Kragujevac. The findings are considered extraordinary and open up many new possibilities. In 50 percent of the patients included in the study, there was a 100% improvement in constipation, i.e. obstipation treatment
Seed
TRADITIONAL AUTUMN "FIELD DAY" IN RIMSKI ŠANČEVI OF NOVI SAD
The Value of Own Seed
This time, one of the seven institutes of national importance in Serbia, the Institute of Field and Vegetable Crops from Novi Sad, presented to the professional public and farmers its achievements in the production of corn, soybean, sunflower and alternative plant species. Farmers were able to look at the experimental fields and get expert advice on the cultivation technology that they will apply in their fields