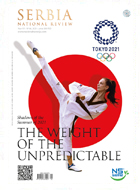 SERBIA - National review, No 86


Prologue
The summer is here, and where are we? Epidemiological measures have been relaxed, but the announcements are becoming increasingly tense. The well-known information war, closely linked with the tourist season, is being waged before us again. The goal is to turn us away from certain countries, and attract to others, despite everything. We know which. As if the chaos is not all too great even without it: borders, procedures, vaccine, tests, old news on new virus strains. Because of all this, mostly out of principle, many wisely decided to stay in Serbia this summer again As usual, the new issue of the National Review contributes a bag full of argument in support of this. <



CONTENTS
Introduction
Heat
Vitrage
NUMBERS, EVENTS, INTERESTING THINGS
Album
SERBIAN HISTORICAL PAINTING
Memory in Images
Encounters
IN TRSTENIK AND LJUBOSTINJA, DURING "JEFIMIJA'S DAYS", HALF A CENTURY FROM THEIR INCEPTION
In the Golden Glow of the Language
Marked by the double jubilee, the prestigious event brought together excellent Serbian writers, musicians and scientists this year again. The "Jefimija's embroidery" award for 2021 was presented to Dragan Lakićević for the collection "Harvester and Šumanović". Famous Serbian artists presented themselves in the program "From the lineage of light and glory". Experts discussed the topic "Female rulers and noblewomen of medieval Serbia". The yearbook "Ljubostinja Offerings", "Ljubostinja Lily" was awarded, and eight selected poets presented offerings to Jefimija. Exemplary organizers have shown that not everything in this world depends on money
By: Slađana Ristić
Heritage
ON THE OCCASION OF AN IMPORTANT EXHIBITION IN BELGRADE
Recognition of Serbian Heritage
"Landscapes, Old Crafts and Arts – the Hidden Heritage of Serbia". It is the title of an interactive exhibition held recently at the Institute for the Study of Cultural Development, under the slogan "Feel the Tradition". We tasted flavors from the Serbian mountains, saw the skills in making pottery and decorating clothes, listened to stories about people's lives and childhood in the village. We rejoiced, not asking why
By: Gordana Simeunović
Pilgrimages
IN BEŠENOVO, UNDER FRUŠKA GORA, IN THE NEW LIFE OF AN OLD MONASTERY
Turned from Dream into Reality
Layers under this monastery are as deep as history. There is ancient Serbian, Roman, early Christian heritage… It is believed that the first Serbian Orthodox Church was built here by King Dragutin Nemanjić in the late XIII century. Many have attacked it, but it was completely destroyed by the Independent State of Croatia army during World War II. The destruction was ended in the allegedly allied bombing in 1944. The restoration was led by prior Arsenije with the small fraternity and the people of Bešenovski Prnjavor, with the blessing of Bishop of Srem and under the protection of a particularly holy painting, which arrived from afar
By: Miloš Lazić
Jubilee
DRAGIĆ KARAKLIĆ, DIRECTOR OF "TARA" NATIONAL PARK, ON THE OCCASION OF FOUR DECADES OF PROTECTION OF THIS EXCEPTIONAL AREA
Treasure and Care
Many rare and amazing natural features have been amassed on almost 25,000 hectares of this mountain beauty. Now it is also a tourist destination, with unforgettable lookouts, hiking and biking trails, adrenaline sports... The popularity of this Cyrillic mountain increases the pressures, as well as the risks of deterioration, from which it must be wisely defended
Distances
IN THAILAND, ON A COMPLETELY DIFFERENT JOURNEY
Like a Movie
"Why would you go there? They eat bugs there. Rats are this big. Dragons walk through the parks. Mosquitos can kill you! And beware of cheats. They are lurking around every corner!" already mad at myself for traveling half the planet only to be robbed the minute I leave the plane, and to finally be killed by a tiger mosquito, I traveled to Thailand for the first time in 2018. After a few days of ridiculous timidity, I freed myself from all prejudices loaded by my acquaintances and the internet. It was not difficult to fall in love with a place where it is always summertime, and which carries the nickname "Land of Smiling People"
By: Dragana Barjaktarević
In Remembrance
DIVNA VEKOVIĆ (1886–1945), IMPORTANT NAME IN SERBIAN SCIENCE AND CULTURE, KILLED WITH A MALLET IN ZIDANI MOST
Our Unpaid Debts
She, from the village of Lužac, Vasojevići clan, graduated medical school at the Sorbonne in 1909 and was the first female doctor in Montenegro. As a volunteer, she joined the Serbian army during the Great War and breakthrough of the Salonica Front. She received the highest Serbian and French medals, got her PhD degree in literature in Belgrade, was the first to translate "Mountain Wreath" into French, published important works in the field of philology, linguistics, ethnography… Without a trial and explanation, in the night between May 17 and 18, 1945, she was bestially killed by communists
By: Milica Kralj
Old Masters
RAIČKOVIĆ (1928–2007) AND HIS LYRICAL UNIVERSE MADE FROM A GRAIN OF SAND
Stevan the Tall
Those who have only heard the titles of his early books surely imagined him as a refined lyricist: "Poem of Silence", "Ballad of Dusk", "Late Summer", "Stone Lullaby"… Based on the strictest criteria, he is one of the greatest. As a great lyricist, he became the best urban poet, turning the city prosaicness into a lyrical stage. He is remembered as gentlemanly and serious, sincere and sensitive, and an entirely unusual man. Neat, literate, moderate, he became the measure in Serbian high poetry and culture
By: Dragan Lakićević
Worlds
AN UNUSUAL EXHIBITION IN THE HERITAGE MUSEUM IN RUMA
Anti-Utopia from Gomolava
Filip Tkalac, young artist from Hrtkovci, confronted us with the most dramatic questions of the epoch we live in. Is the transhumanism ideology with its extreme engineering leading to high-tech paradise or the abyss of the apocalypse? Is this the beginning or the end? The artist does not impose answers, he rather forces us to search for them. It is better to be a fighting pessimist, he says, than an unrealistic optimist. It is our obligation to indicate the direction the world could take
By: Mile Vajagić
Arena
TIJANA BOGDANOVIĆ, ONE OF THE STARS OF SERBIAN TAEKWONDO
The Unique Feeling of Fighting
Some traits are acquired by birth, some are acquired by hardening through work and competition. In taekwondo, I was kept by that thrill of entering the fight, that intertwining of fear and desire to win. Later, you discover how important tactics, patience, teamwork, and smart fighting are. No, I don't mind that the public expects a lot from those who made it acustomed to victories, on the contrary. This strange year will be full and turbulent: the European Championship, the Olympics, the World Cup. We are strongly preparing for everything that lies ahead
By: Dejan Bulajić
Examples
VLADIMIR KLASAN, CHESS PLAYER IN THE KINGDOM OF SILENCE
To Be a World Champion Sometimes
Hearing problems were not identified until he was five years old. It will close some paths for him but open the most important one, his own. He had to learn early on to cope with the weight and cruelty of life, and to fight. Thus, from his native Inđija, he reached the three biggest championship titles: European, World and Olympic. His formulas are simple, but one needs to rise up to them. And one needs to be able to hear them. Perhaps we could be taught this by those to whom nature has denied this gift
By: Aleksa Komet
Destinations
SUMMER IN VRNJAČKA BANJA 2021
New Reasons for the Old Place
The high health security of guests is the basis for high expectations in this tourist season, despite the still complex circumstances. New hotels, new amenities and infrastructure improvements are additional important arguments. If epidemiological measures allow, several recognizable events will be held: Carnival, International Theater Festival, "Love Fest", Film Screenplay Festival, Ethno Festival...
Health
SUMMER IN "MERKUR", AFTER EPIDEMIC TEMPTATIONS
For Complete Recovery
We are tired of everything and worried about health maybe more than ever. We also look at travel from a different perspective. We need real solutions, simple and beneficial, not mere slogans and marketing screaming. "Merkur", a combination of the best spa traditions and state of the art modern medicine, is the name for just such a solution
Knowledge
FOURTEENTH BELGRADE ENGINEERS' DAYS
Ideas and Expertise
A number of lectures and workshops enable students of technical-technological and natural-mathematics sciences to show their projects in the right way. And the competition itself, in the categories of team design and case studies, brought a number of very creative solutions, based on knowledge and skills
Seed
SOCIAL RESPONSIBILITY OF THE NOVI SAD INSTITUTE OF FIELD AND VEGETABLE CROPS
Care for True Values
As an institution of national importance, the Institute continues to support socially responsible business and the overall improvement of agriculture in Serbia. It helped farmers in flooded Doljevac and the people of Banija affected by the earthquake. It helped the most endangered farmers in the South Bačka district. Again it supported the community "Land of the Living" at Kovilj monastery. It continues to support top sports, such as the champion volleyball team "Vojvodina NS seme", because it knows the role of sports in the formation of young people and their growing into healthy members of society