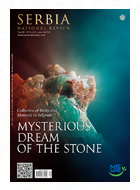 SERBIA - National review, No 74

Prologue
"It is a sin, my friend, that you remain the individual I and that you are unable to, in the magical metamorphosis of the journey, turn into the sea, sun, wine, wind... Try not to live the world in your own name, but to live yourself in the name of the world." Have we sunk too deep and darkened too much to truly understand these hyperionic sentences of Bela Hamvas? Behind us is a spring that almost never came, before us a summer filled with shadows and threats. Are we still, despite everything, able to be light, bright and gentle to find joy in the cherries of our hometown, to bow before the miracle of life? What you see here is a road sign. <



CONTENTS
Prologue
ARE SLAVS ACTUALLY LITERATE?
Being Yourself
Vitrage
NUMBERS, EVENTS, INTERESTING THINGS
Album
RAINY SPRING WITH MILAN KONJOVIĆ
Rapture and Elements
Treasure
FACULTY OF MINING AND GEOLOGY'S COLLECTION OF MINERALS AND ROCKS, A BOUNDLESS SCIENTIFIC AND CULTURAL VALUE
A Rock Lovers' Dream
It all began in the first half of the XIX century, thanks to the friendship between a witty duke and a noble mining engineer. The valuable collection brought then grew into a great scientific and cultural heritage, with the efforts of many great people and generations, as well as gifts from almost all continents. The collection today contains around 10.000 valuable specimens of minerals and rocks. Visiting the Collection resembles an interesting and inspiring journey, which shouldn't be missed
Text: Alena Zdravković, Kristina Šarić
Flow
SAILING DOWN THE JEGRIČKA, FORMERLY THE LONGEST RIVER THAT SPRINGS AND EMPTIES IN VOJVODINA
Watermarked
This former river in southern Bačka, 65 kilometers long, is now a special ecological system of connected smaller lakes and ponds through which water flows towards the Tisa. The basin is about 100 kilometers long, and just over 14 kilometers wide. It runs through the municipalities of Bačka Palanka, Vrbas, Temerin and Žabalј. Since 1997, it has been on the list of internationally significant botanical areas and bird habitats. There are also picnic areas, lakes, fishing area, catamaran...
Text and photo: Miodrag Grubački
Lens
SEARCHING FOR THE INHABITANT OF OUR LANDS, WHO IS BECOMING INCREASINGLY RARE
About Otters and Purity
It belongs to the mustelidae family and finds its way perfectly in water, under water, next to water. It is a symbol of clarity, skill, freedom. Meeting it, getting close to it is very difficult, let alone taking a photo of it. Persistence, dedication and intimacy with nature paid off to our associates. We have now their small diary of meetings with otters, recorded with pen and camera
By: Violeta Milutinović
Photo: Zoran Milutinović
Pilgrimages
VISITING THE HOLY MOUNTAIN
Before the Holy Virgin
Geronda Nikola, a sexton of the congregational church Dostojno Jest in Karyes, guided us through the paths of this unique place. We visited Xiropotamos, Panteleimonas, Vatopedi, Pantocrator, Iviron... In the end, we were all blessed by old Nikodim, the humble guardian of the most pious Serbian corner of the Hermitage of St. Sava
Text and photo: Mišo Vujović
Examples
VLAJKO KALENIĆ, THE OLD SERBIAN KIND, A PHILANTHROPIST REMEMBERED FOR HIS MODESTY AND NOBLENESS
An Unrivaled Shoemaker
He gained his wealth by great efforts, smart investments and patience. On his own, not someone else's labors. Everything he had gained, and it was a lot indeed, he bequeathed to the Belgrade University for educational purposes. His endowment fund supported the Commercial Academy, elementary school in Palilula, poor students of the Faculty of Economics. It resumed its activities in 1995. A green market raised on his land, a kafana and a street in Vračar are today named after Vlajko Kalenić. Wild ivy is growing from his grave, symbol of faithfulness and eternal life
By: Gordana Simeunović
Bridges
BOOK FAIR IN LEIPZIG: PART OF GERMAN HISTORY AND A PARTICLE OF SERBIA IN IT
The Saxon Culture of Openness
Lipar, Lipovac, Lipnica. "Places where linden trees (Serbian 'lipa') grow". According to the Lusatian Serbian root of its name, that is what Leipzig means. Fairs have been held in it since the XV century. The university was established at the same time. This is where Leibniz and Wagner come from, this is where Goethe and Nietzsche studied, this is where the first daily newspaper in the world was printed in the XVII century. This is where Dositej Obradović, Vuk Karadžić, Sima Milutinović published some of their most important works, Brana Petronijević, Aleksandar Belić, Veselin Čajkanović gained their doctoral degree… Mokranjac and Hristić studied music here… Continuing its bright tradition, Serbia had a successful presentation at the Leipzig Book Fair this year as well
By: Mladen Vesković
Reminder
"POLITIKA FOR CHILDREN", THEN AND NOW
A Treasury of Tenderness, Joy and Wisdom
This extraordinary section for the youngest readers of the Serbian oldest living daily newspaper has been published for almost ninety years. It is an anthology, scrap book, book of poems, encyclopedia, entertainment magazine. Renowned masters have been writing, drawing and editing it. Their hand is felt in everything brought by this golden school of nobleness, knowledge and entertainment for decades. Since 2009, the section has been halved. Newspapers are the best reflection of the spirit of time, so a question arises: what has actually halved inside of us?
By: Dragan Lakićević
Target
DAMIR MIKEC, MEMBER OF SERBIAN NATIONAL TEAM IN TARGET SHOOTING
Expecting the Olympic Games
Next year in Tokyo, he will try to achieve his perhaps only unfulfilled wish: the Olympic medal. He says that sport opened the roads before him and helped him mature as a personality. He considers it contemporary chivalry, which only the best are worthy of. Despite negative things, from doping to nepotism, he still believes that sport today is basically honest. No one can reach the highest achievements "using connections". He is happy to see sports grounds in Serbia full of children again. He will also, after finishing his career in competitions, remain in sports
By: Dejan Bulajić
The Capital
THE TOURIST ORGANIZATION OF BELGRADE CONTINUES STRENGTHENING OF PROMOTIONAL ACTIVITIES IN THE WORLD
The City in Focus
This spring, very successful presentations were held in Thessaloniki, Athens, Larissa, Stockholm, Moscow, Beijing, Dubai... These are followed by Vienna, Budapest, St. Petersburg, Sofia, Ljubljana... The results of this great and thought-through effort are visible in the further growth of the number of foreign guests, as well as the number of their overnight stays (length of stay) in Belgrade
Guide
TOURIST DEVELOPMENT OF GOČ EXPANDS THE OFFER OF VRNJCI REGION
The Mountain of Great Opportunities
This beautiful mountain in Central Serbia, part of the North Kopaonik Wreath, is as beneficial as the spa resort over which it rises. Its forests, water, vegetation, outlooks, villages, ski and pedestrian trails – it has been proven – help our bodies recuperate by themselves and establish the lost balance. When we add to this serious infrastructure, into which a lot has been invested, everything becomes even more accessible and attractive
By: Violeta Kostić
Feats
CONTINUED INFRASTRUCTURE DEVELOPMENT OF RUMA
New Development Projects
After the last year's reconstruction of the city core, this year the periphery, the traffic network at the entrances into the city, the large railway crossing, and 15. maj, 15. avgust, Sremska and Miloša Crnjanskog streets are now undergoing reconstruction... Economic recovery of this town in Srem is followed by the urban development, real estate market, housing construction. In a short time, thousands of people have been employed. Ruma has become attractive for people from a wider environment, especially for young people
Health
"MERKUR": COMFORT, ENTERTAINMENT AND FULL EFFECTS OF STAY IN BANJA
Approaching the Summer
In addition to a true rest, elimination of accumulated stress, good entertainment, a team of forty doctors of various specialties will help you really improve your health, looks and lifestyle. Great knowledge and unsurpassed medicinal properties of nature, united, are the best support for this
Seed
INSTITUTE OF FIELD AND VEGETABLE CROPS IN NOVI SAD
Support to the State and Users
In the next year, this institution of national importance will host two planetary scientific gatherings: the World Sunflower Conference and the World Soybean Conference (which will be the first such soybean gathering held in Europe). By comparison, it is as though Serbia was selected to organize the Olympics in agriculture