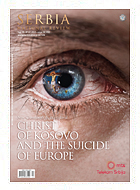 SERBIA - National review, No 67

Prologue
"We see that everything around is on fire, only the fire in the heart of a modern man is diminishing." Some cold indifference, a blend of selfishness i dullness, spreads like a desert through the modern world and man. As if the people of today have forgotten he lesson of the Holy Fathers: "Ours is only what we give to others." And that neither international nor supranational is above national, but universal. And the universal can best be reached if we depart from the authentic, local. Our quest was again based on this old knowledge. What we have found – we will share with you. That which we have not found – we will continue to look for. <


CONTENTS
Prologue
A DANCE ON AN INVENTED CROSSROAD
Remote Controlled
Vitrage
NUMBERS, EVENTS, INTERESTING THINGS
Album
FOUR DECADES OF MIODRAG BRANKOVIĆ'S WORK
The God-Seeking Lens
Wings
A LITTLE BELGRADE BIRD ATLAS
Metropolis as a Nest
Expansion of the city and climate change, deforestation and drying of wetland, increased warming and pollution, different availability of food, and many other factors have resulted in many birds no longer coming to Belgrade, just like many do not leave any more. Some new species came closer to the city and the people. In addition to domesticated sparrows, pigeons, crows, Eurasian magpies, wild ducks and swans, in the area of Belgrade today there are gray and white herons, black and white storks, Common starling, pygmy cormorants, common kestrel, hawks, owls, rooks, Eurasian jay, ravens, white-tailed eagles, eastern imperial eagles, golden eagles... Do we hear them? Do we see them? Do we know enough about our neighborhood?
Text and photo: Dragan Bosnić
Memory
MARTYRS OF JASENOVAC CELEBRATED IN ORSK, ON THE EDGE OF EUROPE AND ASIA
Prayerful Commemorations on the Urals
Upon the initiative of young priest Maxim Braznikov, the day of New Martyrs of Jasenovac, September 13, has been marked since 2016 as slava in the Church of the Icon of Our Lady of Kazan. Since December 2017, it also keeps a particle of the relics of Serbian martyrs from the Croatian "Jasenovac" concentration camp. The construction of a new temple is beginning this year in Orsk, and a chapel will be dedicated to the New Martyrs of Jasenovac. Following the story, our reporters set off to the heart of Eurasia
By: Marija Živković
Manual
SHORT CONTRIBUTION TO THE HISTORY OF BREWING IN SERBIA
A Fairytale about Liquid Bread
It seems that a kind of beer was already brewed in the Neolithic (according to findings of archeologists from the National Museum in Edinburg, 1985). The homeland of beer is most probably the area between the Tigris and the Euphrates. Sumerians had both beer and Ninkasi, goddess of beer. Beer is mentioned in Hammurabi's Law, as well as some old epics. We can still only guess who brought beer to Europe. The Celts? Greeks? Latins? It is known that, during the first millennium, it was brewed in monasteries in western Christian areas and that hop was added to the beer, which made its taste and color recognizable today. There is also something to say about beer in Serbia, from the Middle Ages till today
By: Miloš Lazić
Reminder
LOZNICA, THE FIRST CITY LIBERATED FROM GERMAN OCCUPATION IN WORLD WAR II
A Bright Spot of Freedom and Hope
Freedom was never a thing to bargain with in Jadar. In the terrible year of 1941, the uprising started already in April 22 in Donji Dobrić, under Vidojevica, only four days after the capitulation agreement was signed. The operation of liberating Loznica on August 31 was prepared in the Monastery of Tronoša. Liberators were led by lieutenant colonel Veselin Misita, royal officer, and Hieromonk Georgije Bojić, prior of Tronoša. Upon liberating the city, Zajača and Banja Koviljača, the Wehrmacht sent additional forces to Serbia from France and Greece. In spite of the occupier's revenge, this example continued shining in the European history of freedom
By: Nebojša Trifunović
Lighthouses
SERBIAN PATRIARCH PAVLE (1914–2009) AND ONE INSTRUCTIVE EXAMPLE OF HIS ATTITUDE TOWARD THE OPPRESSORS OF THIS WORLD
Living on the Crucifixion
In deep and cruel dictatorship, the Secret Service and the Party, in 1962, had already prepared everything for imposing decisions that would cause a schism in the Serbian Church. Everyone was silent at the assembly, some of them out of profound calculations and by the order, some out of despair or cowardice. And then he rose up, chaste and respected Bishop of Prizren, Pavle. Above the bowed heads of the archbishops, his quiet and simple words of truth thundered. Did he prevent the oppressors to do their evil intention? He did not. But he saved the Serbian face, leaving the example and the path that we later followed to reach ourselves and the restoration of unity. We already respect Him as a saint, and who, and how, remembers those who did not oppose evil for "higher reasons"? Today, when there is a similar danger over the Church and the people, everyone who is sitting in the Holy Archbishopric Assembly of the Serbian Orthodox Church should be reminded of this
By: Mišo Vujović
Chisel
TOMA ROSANDIĆ (1878–1958), SCULPTOR, A BRIDGE TOWARDS MODERNISM IN SERBIAN CULTURE
Carved in Time
He was a born stonemason and made his most sublime creations in walnut. He chose Belgrade before Belgrade choose him, and their bond will last forever. He directed Serbian sculpture from XIX century aesthetics towards modern concepts. He was Serbian academician and one of the founders of the Belgrade Academy of Fine Arts. We remember him by the playful horses in front of the National Assembly (1937), "Stone Thrower" in the National Museum (1935), "Head of Christ" in the Museum of Contemporary Art (1915), "Self-portrait" at the Faculty of Fine Arts (1930) and bareheaded Njegoš from Trebinje (1934)...
By: Dejan Đorić
Crossroads
BRATISLAV PETKOVIĆ'S PLAY "ST. DEMETRIUS DAY" AND ITS ECHOES IN THE SILENCED LAND
Liturgy in a Theater
A large part of the Serbian tragedy of the XX century poured into that St. Demetrius' night of 1946 in Kitzbühel. Their paths, two forms of martyrdom, parted forever. Two foreign lands were before them, one in Serbia, the other far away from it. What can be learned from this today, when we are again facing horrible crossroads, a new age of forgery and treason?
By: Aleksa Komet
Life, Novels
DRAGAN HAMOVIĆ, A POET WHO PUSHES BACK DARKNESS, FIERY AND GENTLY
The Age of Processing People into Mass
The turmoil we are living is fully controlled. There are two crucial targets of the global attack: self-conscious personality and cultural memory. A human and a society without heritage are deprived of their stronghold, they move at others' discretion, like chess pieces. In a time of cynics and trick-masters, we have a vengeance of the untalented and pretentious. Identity engineering and occupation of consciousness. Persistent attacks on supporting pillars of internal survival. However, the organic resistance of the "huge minority" is gradually growing, although it has the status of a guerilla in their own country

By: Branislav Matić
Champions
EDUCATIVE CONVERSATIONS WITH ANDREA LEKIĆ, A GIRL FROM BELGRADE IN THE TOP OF WORLD HANDBALL
World Eager for Positive Examples
She wore the laurel of the best handball player on the planet, won the Champions League, became honorable citizen of two cities. Bearer of the highest recognition in Serbia. Even today she doesn't forget how much effort it takes for "miracles to happen". She knows what her family did for her and what a blessing that is. She cannot stand indifference and calculative approach to life. She is aware that money can devour people and humaneness. When nostalgia takes over, like now, and more frequently than before, she reads something like "Belgrade Stories" by Ivo Andrić
By: Dejan Bulajić
Care
HUMANITARIAN-SPORTS FEAT "THREE-POINTER FROM THE BLOCK" IN RUMA, THIRD SEASON
Heart in the Game
Humanitarian organization "Serbs for Serbs" is behind the event, and the competition in fast shooting of three-pointer takes place in about fifty places throughout Serbian countries in the diaspora. The goal is to raise funds to help socially the most vulnerable families, in order to help them improve the essential living conditions. In the past two years, the citizens of Ruma have been breaking records both in the number of participants and in the amount of collected aid
By: Mile Vajagić
Upswing
DRAGAN TOŠIĆ, PRESIDENT OF THE MUNICIPALITY OF BEČEJ, ABOUT NEW DRIVING ENERGY
The City Is Breathing Again
Last year, RSD 400 million was invested in the development and development, which was felt by all citizens and the entire municipality. The positive and fruitful spirit has returned, which had been lost for a while, because it seemed that everything is "just an empty talk" and that nothing really can be done. The municipality is ready for the new year of open calls: there are ideas, finished projects, complete technical documentations
Connections
TWO PRESTIGIOUS AWARDS FOR THE COMPANY "TELEKOM SRBIJA"
Saint Sava Medals
The medal of Saint Sava of the first order, the highest recognition of the Serbian Orthodox Church, was received by Predrag Ćulibrk, General Manager of "Telekom Srbija", from the hands of His Holiness Serbian Patriarch Irinej. The Saint Sava award, for exceptional contribution to quality education and upbringing of children, was awarded to "Telekom Srbija" by the Ministry of Education, Science and Technological Development
Studies
QUALITY OF THE TEACHING PROCESS IS THE KEY TO SUCCESS OF BELGRADE BUSINESS SCHOOL
Toward Creating New Values
With the new study programs in the field of information technology and public administration, cooperation with reputable higher education institutions from the country and abroad, organized professional internship in over 500 companies and organizations – BBS is an important example of raising the level of vocational studies in Serbia. Its future transformation into the first Serbian Academy of Business Studies is a logical crown to these development processes
Gatherings
IN "MERKUR, GOVERNED BY HEALTH AND BEAUTY
A Week of Esthetics
Together with its friends, prominent public representatives, "Merkur" has promoted the significance of healthy lifestyles, and the importance of prevention and medicine for the preservation of health and beauty. With special programs tailored to individual participants, it was shown that excellent results can also be achieved through fun, recreation, active discovery of the attractiveness of nature, city, culture