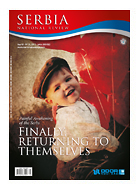 SERBIA - National review, No 35

Prologue
Immensely loyal to its European path, Serbia has become the only country in Europe which borders with its own parts. With itself (in the company of "our European friends"). Since it is not in itself, let it be nearby. Just in case. If you are not in terms with this, you can leave through integrated exits from disintegrated country. Stand in line, because we will enter the EU in groups.
To take your mind off that, you may be entertained these days by several arrests, one protest of a weakly association, one mega-concert and two-three rigged football matches
Even from 2012, it is too much.


GALLERY

CONTENTS
Prologue
SERBIA AFTER THE HAGUE AND EVERY OTHER DEVIL
Freed from All Illusions
Vitrage
NUMBERS, EVENTS, INTERESTING THINGS
Album
SERBIA, WITHOUT A SHADE OF GREY
A Thousand Colors of Autumn
Road Sign
NA PLANINI KOJA JE NADŽIVELA SVE, ČAK I ZABORAV
Javor, My Old Friend
"Javor is standing, Golija is standing, Mučanj is standing, and as for people, some of them are." This is how old people from Ivanjica answer the question of how it is today in this part of Serbia. And up on the mountain, in the paradise of deciduous forests, an increasing number of visitors from afar, and even local ones began coming back. This can best be seen in the village of Kušići, one of the centers of Serbian rural tourism
By: Jovan Vučković
Photographs: Dragan Bosnić
Return to Nature
IN A HIDDEN NEST IN NORTH SERBIA, LIKE THE RAINFORESTS OF AMAZONIA
Robinson from Bačka Cures the World
Five kilometers from Bezdan toward Croatian border, on a Danube armlet and the brink of dense forests, Ecological Workshop "Baračka" has been there for years. Created through cleaning, snatched from dump and nihilism of modern-day barbarians. First it was a gathering place for fishermen from Sombor, then it became a little school in the nature, and a refuge of people tired from soulless and neurotic cities. You will not see Crusoe, Friday, Defoe or Sienkiewicz, but you may find yourself
Text and photographs: Olga Vukadinović
Encounters
THE 40TH ANNIVERSARY OF THE "LIM POETRY READINGS"
The Priboj Thread of Golden Poetry
The winner of that first year was Dobrica Erić, who wrote: "I came to the Lim, to have a close up dream". The guests of this city were grand poets such as Desanka Maksimović and Vasko Popa, Mira Alečković and Dragomir Brajković, Ćamil Sijarić and Slobodan Rakitić. This year too, many new poets, names to remember, are arriving to the banks of the Lim
Guide
SACRAL HERITAGE OF SREMSKA MITROVICA
Under the Sign of St. Demetrius
Exploiting tourism potentials of Sremska Mitrovica, mainly promoting the offer and service quality, is one of the development priorities of this city. Even in that aspect, the city is unbreakably connected to the saint it celebrates with its name
Remainder
VRNJAČKA BANJA AND ITS PROVEN DEVELOPMENT PHILOSOPHY
New Power of Old Formulas
Since ancient times people here knew that Banja is not only a treatment centre, a place frequented by the old and the ill, when they have to. It is , at least to a same extent, a place for classy young people, searching for active holiday and recuperation, fine hedonism and diverse entertainment. This was known to our ancestors, long time ago, and the Municipality of Vrnjačka Banja has included it, again, in its current development strategy
Catalog
THE OLD MOUNTAIN REGION CONTINUES ITS RISE TOWARD HIGH TOURISM
Mountain Dream of Knjaževac
This mountain is a cousin of the entire Peninsula, which is called after its second name (Balkan). In accordance with the Strategy of Development of Tourism of Serbia (from 2006), tourist destination Old Mountain is a project of high priority and the biggest Serbian investment in this industry. It is clear what significance it all has for the entire area of Eastern Serbia. How far have they gone?
Celebrations
IN THE MINING SETTLEMENT OF LAZAREVAC, WHICH HAS ONCE AGAIN BECOME THE CENTRE OF VINE GROWING, LIKE BEFORE
To the Glory of Wine and Life
Under the old slogan "It is time for wine, let us drink the local one", the fourth Wine Festival in Lazar's town once again gathered the best manufacturers and major connoisseurs. Also promoted was the book "Vinopev", a collection of poems about wine, they say the first of this kind published in Serbia. Again, the successful organizers were the Municipality of Lazarevac and the Association of Vine-growers and Wine-Makers of Serbia
Road Guardians
SERBIAN MEDIEVAL FORTIFICATIONS AND PALACES IN KOSOVO AND METOHIJA
On the Map of Mobile Capitals
Serbian medieval kings were often on the road and on battle lines, so that they did not have only one capital. They did not build monumental palaces, like the Western and Byzantine ones. The location of their throne was dictated by events and circumstances. Most often those would be complexes consisting of several luxury buildings, without fortifications, with the ruler's palace in the middle. In addition to the ruler and his family, church dignitaries, scribes, treasurers, judges, personal guard, entourage and servants also stayed within the complex. The earliest palaces were in the vicinity of Ras, and since the time of king Milutin (1253-1321) the centre of the state was moved to Kosovo and Metohija, where it remained until the era of emperors Dušan (1308-1355) and Uroš (1337-1371)
By: Vojislav Filipović
Library
BRANKO ĆOPIĆ (1915–1984), UNFORGETTABLE POET OF CHILDHOOD AND BATTLES, WRITER OF A THOUSAND STORIES OF THE COLOR OF MALLOW
A View of the World from Our Window
He was a writer-institution, with several talents living inside him. He was raised on the folk heroic history, oral tradition and fairytale images, in the homeland of humorous stories and fables; he recognized the dimension of the classics of ancient cultures in Serbian heritage. Born amidst the First, participant and poet of the Second World War, he wanted to confront the cruelness of the world with gentleness, beauty and humor. His teachers were folk poets, Njegoš, Kočić, Matavulj. And from the Slavic lands Hashek, Gogol and Chekhov
By: Dragan Lakićević
More than a Game
LJUBIVOJE RŠUMOVIĆ (1939), POET, EXCLUSIVELY FOR "NATIONAL REVIEW", FROM THE FREE TERRITORY
All the Havocs of Old Ršum
Ljubivoje from Ljubiš, Zlatibor, shared with us all the tips and tricks, all the scams and flicks ever since ancient Greeks. He released news from the swoons, made three knots on an eyelash, sunbathed in the moonlight and said: "The last thing we need is dragons!" He listened to the call of the blackcock and gave us stray poems. He taught us that homeland is defended with beauty. Today, twenty-odd years after the death of Duško Radović, he is still the first to read everything Ljubivoje writes
By: Branislav Matić
An Eye
TWO EXAMPLES OF RECENT SERBIAN MOSAIC ART
Karađorđe Slaying the Dragon
From antiquity to the present, this form of art in Serbia has experienced various periods. Floors and walls have been decorated, palaces and temples, icons and frescoes. Demanding and expensive, the mosaic was once the choice of wealthy patrons, mostly rulers. It flourished in the twentieth century, and produced two outstanding achievements of that time: The Church of St. George in Oplenac and building of the City Hall in Kruševac
Text and photos: Milan Janković
Purgatory
"REMAKE" – FESTIVAL OF CREATIVE INTERVENTIONS
Anything You Imagine Is Possible
The forest caught fire. Everyone started running from it, elephants, lions, giraffes, bears… Everyone, except a hummingbird. The small bird decided to do something. It took water into its small beak from a nearby stream and, drop by drop, began extinguishing the forest fire. "Where are you going, you useless creature, what do you think you're doing with that drop of water?" – asked the big bear. "I'm doing what I can" – answered the hummingbird. The "Remake" members, like the hummingbird, are doing everything they creatively can to wake up big animals
Text and photo: Dragana Barjaktarević
Memory of the Streets
A NEW NOVEL ON THE OLD WHIRLPOOLS OF DIONYSIAN BELGRADE
Report from the Bottom of the City
Those were different people, it was a different city. In the Belgrade Bermuda Triangle – bordered by "Šumatovac", "Lipa" and "Grmeč" – there were more great masters of literature and journalism sitting every day, than one could count in the entire "Western Balkans". Charles Bukowski and Henry Miller spent nights wandering through Belgrade with their mates and used to end up in the "Last Chance". The sinking was refined, with style. Literary careers started in a store and ended in Guberevac. One would go out for a pack of cigarettes and return many years later. From the manuscript of the new novel of the best writer of the Belgrade "poetics of the bottom", starting from this issue, "National Review" will publish several picturesque excerpts
By: Nebojša Jevrić
Winner
TEN STORIES OF DEJAN STANKOVIĆ, SERBIAN FOOTBALL HERO, EXCLUSIVELY FOR "NATIONAL REVIEW"
Wisdom is in Patience
All the great things that happened, he first dreamed about, long and steadily. Zemun taught him to be himself in life. His family gave him strength and support, just as he gave it in return. He feels the pain of all the wounds of our people. He admires the fact that people in Serbia still manage to find a motive and endure, with their heads up, all the horrors they have been exposed to. Serbs however mostly miss patience, especially in what needs to be planned long-term, and the ability to wait. He relies on what inspired us to survive even when everyone had written us off, even when we ourselves don't believe we have any strength left
By: Dejan Bulajić
Knowledge
"SINGIDUNUM" UNIVERSITY ESTABLISHED COOPERATION WITH "METROPOL PALACE"
Common Roads to Success
Hotels, restaurants, communications and development of destinations do not represent only a tourist offer, but also culture, ethics, customs and institutions. Those who work in tourism, with their professional culture and education, have an important role in promotion of a country. That is why the connection between education and industry is so important in this area
By: Ruža Srbinović
Photographs: "Singidunum" Archives and Ruža Srbinović
Knowledge
THE COLLEGE OF HOTEL MANAGEMENT IN BELGRADE IS DEDICATED TO PROVEN PRINCIPLES
Hospitality is a Science and Art
Gastronomy, a reflection of rank and fullness of a culture, undoubtedly requires great knowledge and skill. Love, research and creativity are important attributes of a good restaurant manager. And all this is taught and nurtured in this school, crowned with numerous awards in Serbia and abroad
By: Zoran Plavšić
Knowledge
NEW ACADEMIC YEAR IN BELGRADE BUSINESS SCHOOL
Upswing of a New Generation
New freshmen in all study programs quickly realized that they have chosen the right institute of higher education. And its continued international cooperation with renowned world educational and scientific institutions is a confirmation of this. Another foreign partner is the Academy of Labor and Social Relations from Moscow
Energy
THE FOURTH PHASE OF REVITALIZATION OF HPP "BAJINA BAŠTA" HAS BEGUN
Power for Longer Life
Serbia wants to preserve the leading role in the energy sector of the region. For this, in addition to reconstruction of existing capacities, new development projects and investments are needed. There will be no privatization of Electric Power Industry of Serbia (EPS), but it is important to build strategic partnerships and joint ventures
Energy
A SERIES OF SUCCESSFUL PROFESSIONAL AND EXHIBITION APPEARANCES OF PD TENT
Big Strides of Progress
Professional conference "Power plants 2012" on Zlatibor, as well as international fairs of energy industry and environmental protection in Belgrade, were an opportunity for another powerful affirmation of the power giant from Obrenovac and its development projects until 2017. Swedish consulting company "SKF" ranked TENT at the fourth place among 27 power plants in the world. General emphasis is on energy efficiency and environmental protection
Introducing
"ELEKTROVOJVODINA" COMPLETES THE IMAGE OF THE BEAUTIFUL NOVI SAD
Tradition of a Good Host
"Ribarac" and NORCEV, buildings of "Elektrovojvodina" near Novi Sad, have been accessible since recently with their programs not only to employees of this company, but also to others who want to visit them. Along with good quality of service and excellent selection of everything generally offered by hospitality facilities of this type, the users have the possibility to, in addition to doing their work, have an unforgettable experience of natural ambiance in the environment
Jubilee
TWO AND A HALF DECADES OF THE EMERGENCY CENTRE OF THE CLINICAL CENTRE OF SERBIA
Fighters for Everybody's Life
One thousand and two hundred employees here – doctors, nurses, technicians and others – work 24 hours a day, every day. They are running the constant decisive race with time. In the clinics, operating rooms, intensive care, with their knowledge, skills, their dedication to profession, they are fighting an uncompromising battle to save lives. Until now, they have never, not even for a moment, closed their doors to those who are severely ill or injured
Health
CULTURE AS AN IMPORTANT ELEMENT OF TREATMENT PROGRAM IN RIBARSKA BANJA
For the Former Trendy Charm
"In 1930's, it was a trendy center and meeting place of artists", says Dr Branislav Katančević, Director of "Ribarska Banja". "We want to restore its former glory, and we are on the right path to do so"
Text and photographs: Rozana Sazdić
Health
"MERKUR" OFFERS NEW PROGRAMS AND PRICES LOWER UP TO 30 PERCENT
Toward Ideal Treatment
New offer "Tri boards – three unique prices" enables gussets to most easily select the type of arrangement and service, exactly in accordance worth their needs and desires, regardless of whether they are here for medical reasons or for recuperation, holiday and fun
By: Jagoda Plavšić