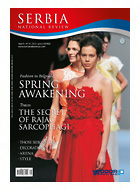 SERBIA - National review, No 31

Prologue
The awaken and the wise teach us: "The lost Centre can no longer be accounted for in words, but only by example." Therefore, you can also read the new edition of National Review as a collection of examples. People from history and the future, from culture and economy, sports and tourism, war and peace, people around us, who have made a huge step forward away from mere description of the disaster and have done as much as it was in their power. Through one exhibition we were reminded of heroes from World War One, went to the "Sretenje Caravan" in Bosilegrad area, made invitations to Wine Fair in Župa, searched for eternal resting place of despot Đurđe Branković, visited the Belgrade Fashion Week. We discussed childhood and many other things with Bora Đorđević and Milorad Čavić, Dejan Stojiljković writes about Niš, his homewtown,  Marija Crnić about Herceg-Novi, Tanja Ćitić about program "Serbia Online"...
Click, go on.
GALLERY

CONTENTS
Prologue
HOW TO SURVIVE THE ELECTION CAMPAIGN
Little Mental Hygiene
Vitrage
NUMBERS, EVENTS, INTERESTING THINGS
Decorations
ORDER OF SAINT DESPOT STEFAN TO AUTHOR MILOVAN VITEZOVIĆ AND JOURNALIST MIŠA VUJOVIĆ
You Will Recognize Them by Their Work
The first recipients of the newly established Order are editor-in-chief and the main associate of National Review. This high recognition was awarded by the Serbian Orthodox Church "for active love toward the Holy Mother Church, especially shown through great contribution to preservation of national cultural and spiritual values of Serbian people". The decorations were presented by His Holiness Serbian Patriarch Irinej
Album
WORLD WAR ONE
Roads
"NATIONAL REVIEW" AT THE "SRETENJE CARVAN" IN BOSILEGRAD AREA
Visiting a Serf
There are traces in "God forsaken place" and roads in the "hinterland". Mountaineers know this, as well as cyclists, long distance pedestrians, gatherers of forest fruit, unwavering curious people. For this, they are rewarded with beauty and joy, even with loneliness, when they need it. In the transition from winter to spring, we passed through these regions, on "džipijada" – SUV off road ride organized by Association "Silver Head", and reached the city of King Bosil, at the far southeast of Serbia
Text and photographs: Dragan Bosnić
Event
TOWARD THE FIRST INTERNATIONAL WINE FAIR "ŽUPA 2012" IN ALEKSANDROVAC
According to the Science of Old Winemakers
Grapes and wine are in the centre of life of this little town, situated amidst the famous Župa vineyards. In September, wine festival "Župa Harvest", has been held for decades. And it will be the first time this year that winemakers from Serbia and abroad, about 80 of them, meet in April as well. It will be beneficial, interesting and useful. Like wine
By: Goran Budimir
Photographs: Tourist Organization of Aleksandrovac
Traces
DOES DESPOT ĐURĐE BRANKOVIĆ REALLY REST IN THE RUINS OF A SMALL VILLAGE CHURC IN ŠUMADIJA
The Secret of Rajac Sarcophagi
Strange. The exact year, month, day and hour are known, detailed circumstances of the death of despot Đurđe are known, but nobody knows where he was buried until today, five and a half centuries later. Has the secret been kept in order to ensure that the grave of the ill fortuned and rich ruler would not be desecrated? And today? What do explorations of archaeologists in the village of Slavkovica indicate and why have they not been completed?
By: Olga Vukadinović
Photographs: Milan Janković
Lighthouses
NIĆIFOR DUČIĆ (1832-1900), AN UNUSUAL ARCHIMANDRITE AND COMMANDER, WRITER AND SCIENTIST
Golden Letters of a Monk and Warrior
He was an educator, wrote many valuable books, erected schools, received high titles and medals. He led volunteers in liberation wars against the Ottomans. He was teacher to King Alexander (Obrenović). He was offered six times to become episcope, but he kept withdrawing, firmly holding his cross, sword and pen, dreaming until his last breath about the liberation and uniting of the Serbs in the Balkans
By: Dragan Lakićević
Those Seeking God
THE MOST UNUSUAL HOLY PEOPLE OF CHRISTIANITY THROUGH ALL CENTURIES
The Saint with an Animal's Head
We see him among the sacred paintings in Donji Korminjani near Gnjilane, in Sukovo near Pirot, Gornji Matejevac near Niš, Gradište near Petrovac at the Sea, St. Nikita near Skopje, Paraklisis of the Dormition of Virgin Mary in Chilandar... Who is he? Where was he born, how did he live, how did he die and how was he dedicated? Where are his relics today, where are the temples dedicated to him, what miracles mark his path? Where did he get the animal image and what does he remind us of? Why did he wake up in this earth? Why are his presentation existing only in Eastern Christianity and missing in the Western?
By: Branislav Matić
Notebook from Boka
MARIJA CRNIĆ PEJOVIĆ, REPUTABLE ETHNOLOGIST FROM HERCEG-NOVI
No One Asks Science
She left a several-decades long brilliant trace in culture, science and social life of her homeland. The ethnological image of Boka would be incomparably poorer today without her research and essays, and many institutions and events would have weaker foundations. The ethnos and identity in Montenegro are a political and existential issue today, she says, thus oscillations and wanderings
Text and photo: Vladimir Putnik
Palette
LJUBICA RADOVIĆ, PAINTER FROM BELGRADE, PERSISTENTLY SEEKING MODERNITY OF THE PRIMORDIAL
Art Is a Dam Against Evil
In her paintings we see Adam and Eve, old Serbian webbings, clothing, flowers, landscapes from Boka, vedute of Dorćol, children, toys… She aesthetically goes back to the time of Matisse, Bonnard and Vuillard, however remains open for the experiences of Anselm Kiefer. She explores ancient Indo-European knowledge and symbols in the deepest layer of art, diving out into the heroic center of early Modernism. Similar to Proust, she seeks for higher states of happiness, maturity and wisdom
By: Dejan Đorić
More than a Game
BORISAV DJORDJEVIĆ, THE VOICE AND BRAIN OF "RIBLJA ČORBA", LIVING LEGEND OF SERBIAN ROCK-AND-ROLL
I Can't See the Light in This Tunnel
He was only thirteen when he founded the "Hermelines" band in Čačak and listened breathlessly to Točak play "Entering the Harem" in the park. That is how it all began in 1965. It still lasts. He has been at the top for decades. He broke the grayness of communism with "water closet poetry", he struck politicians when they were at the top and dangerous, he never kicked blown out dolls. He remained brave, normal, witty, easily falling in love, inartificial. He still cuts chains with a razor, ruffles dead seas, unmasks the ancient "new world order". He is preparing his new album, and doesn't even think about old age
Text: NR Press and Jovan Vučković
Photos: Dragan Bosnić and Borisav Djordjević's archive
Soul of the City
IN MANY TOWNS "EVERYTHING WAS MUSIC", AND HERE…
Niš Is Music
Everyone knows "Galija", "Kerber" and Šaban Bajramović. However, undeservingly, only a few know that the band "Fleke" from Niš are part of the history of Balkan punk, that "Dobri Isak" is one of the most avant-garde bands of former Yugoslavia, that the first Yu-gothic-rock band was "Trivalija" from Niš... There are many more things you should know about the Nishville music scenes, clubs, authentic people of the city and a fight of Milan Mladenović
By: Dejan Stojiljković
Style
31ST BELGRADE FASHION WEEK
All Shades of Spring
Psychologists believe that people today buy clothes led by emotions, not the mind. "Love and fashion / are inviting us / to their merry carnival", sang Djuza Stojiljković in the popular Belgrade movie from 1960, starring the unforgettable Beba Lončar. What did this year's Belgrade Fashion Week bring us? What spark lights the heart of Amelie Poulain from New Belgrade before the carnival of colors, textiles, designs…? Love? Fashion?
By: Dragana Barjaktarević
Winner
MILORAD ČAVIĆ, WORLD SWIMMING CHAMPION, EXCLUSIVELY FOR "NATIONAL REVIEW"
Life Isn't a Consumer Basket
He was born and raised in Anaheim, USA, but decided to live in Serbia and fight under the symbols of the land of his ancestors. He graduated from the Berkley University Department of Economics. He broke world, European and Serbian records seven times. He was three times proclaimed the best Serbian sportsman (2003, 2008, 2009). Now he is preparing to win his "final sports gift for Serbia and himself" at the London Olympics next summer. He is only 28 and has his whole life ahead of him
By: Dejan Bulajić
Photo: NR Press and interviewee's archive
Arena
WOMEN'S VOLLEYBALL CLUB "RED STAR" CONTINUES ITS SUCCESS DESPITE ALL
Sport Requires More Attention
For third year in a row, they are superior on the domestic scene. By displaying an excellent work with youth categories, they managed, so far, to overcome a high outflow of players and other long-standing social illnesses that invaded sports. The cadet team includes four "Red Star" players, junior team six of them, and most of the senior team consists of them. However, one cannot be enduring something like that endlessly
Text: NR Pres
Photos: NR Pres and "Reds Star" Archive
National TV
RTS SATELLITE PROGRAM GATHERS US, DISPLACED AND DISTANCED
Serbia Online
With its timely, accurate and objective information, diverse program in local production, as well as updated news from diaspora, this RTS program has settled in a large number of Serbian homes around the world. It is prepared and produced by the editorial staff for the program for diaspora, and the entire system of the national radio-television participates
By: Dr Tatjana Ćitić
Together
STUDENTS FROM NON-ALINNED COUNTRIES CONTINUE THEIR
STUDIES AT THE UNIVERSITY OF BELGRADE
World in Miniature Under Avala
Belgrade now hosts another group of students, more numerous than last year, as a part of the project "The World in Serbia." They come from 42 countries from four continents. They received scholarships from the Serbian Government. They are learning Serbian with the help from professors from the Faculty of Philology in the Students' Resort on Avala, and they will start the selected studies in October
By: Aleksa Mitić
Knowledge
UNIVERSITY FROM BELGRADE "SINGIDUNUM" OPENS NEW CHAPTER IN ITS RICH INTERNATIONAL COOPEARTION
Internationalization for New Quality
A joint implementation of a three-year undergraduate study program in Tourism Management was agreed upon with the renowned Austrian University "IMC Krems." Classes will start in October 2012 and will be held in English. Professors from both universities will participate in the realization of the program. Graduate student obtain the degree of "IMC Krems" University and it is nostrified by "Singidunum" University
Text and photos: Rozana Sazdić
Knowledge
RICH INTERNATIONAL COOPERATION OF BELGRADE BUSINESS SCHOOL – HIGHER EDUCATION INSTITUTION FOR APPLIED STUDIES
Principles of Two-Way exchange
Basic strategy for the integration of this school into the world educational environment is an important element for building a reputation among institutions of higher education. This is the reason for systematic effort to connect with good quality educational foreign institutions and reach world standards. This will enable students to continue their studies at some of renowned universities around the world
Examples
GORAN ĆIRIĆ, ACTING MANAGING GENERAL MENAGER OF "THE POST OF SERBIA"
Harvest of Good Results
Busy April schedule. The completion of construction works on Head Postal Centre in Belgrade, the opening of the reconstructed PTT Museum, and, at the end of this month, this public company will host delegationsa from fifty European Posts at the highest level. A significant profit has been made in the first fiscal year without "Telekom" shares. A stereotype that public companies are inert and uninventive has been disaffirmed. How?
Energy
ZORAN MANASIJEVIĆ, EPS GENERAL MANAGER ASSISTANT
Demagogy Destroys Electrical Power Industry
"Wisdom is not to cover the growth of unreasonable consumption with new power plants, but first to focus the consumption of electric power on what is justified; to become, as a society, energy aware, conscientious and efficient. New power plants are certainly necessary, but even dozen of them would not help us if we continue with such uncontrollable spending. We have increased the power of old power plants by 1,270 megawatts, which is equal to construction of new TENT B3 and almost entire 'Kolubara B'. However, even that will not be sufficient if electric power should remain as impaired as it is now, and used again to buy social peace"
By: Zoran Plavšić
Energy
PETAR KNEŽEVIĆ, DIRECTOR OF "NIKOLA TESLA" POWER PLANT FROM OBRENOVAC, AFTER THE YEAR OF GREAT RECORDS
Towards New Challenges
The remarkable results of this company continued in 2012 as well. In February, during a period of extremely low temperatures, the country's energy stability was maintained due to the driving functionality of TENT. Further reconstruction and revitalization of units is planned for the following five years, and, as planed, 500 million euros will be invested, as well as 600 million euros for environmental projects. Multiple benefits
Presentation
"ELEKTROVOJVODINA", STRATEGIC SUPPORTER FOR NEW INVESTMENTS
Further Growth Despite the Crisis
After five years of operating with losses, the success in 2011 represents a warranty of further development and operations in compliance with high European standards. This well-organized and presently successful company is ready for technological modernization and for the introduction of the smart grid concept. Open electricity market and competition are true challenges, which encourage the ratification of the leading position in the electricity supply sector in Southeast Europe
Health
"MERKUR" AT THE FIRST "NATURA SANAT FEST" IN VRNJAČKA BANJA
Thinking about the Time
"We remember health when we lose it. However, we should care and talk about it the most while we are healthy. 'Merkur' does this in the best way", says Dr Dejan Stanojević, director of this renowned medical institution
By: Jagoda Plavšić
Insurance
"DDOR NOVI SAD" ADVISES: HOW TO ENSURE A PLEASANT PACATION
Travel Health Insurance Policy with assistance
Are you getting ready to travel? regardless of where you are going, skiing or to an exotic destination, there is one thing you can be sure about – travel health insurance will make your vacation more carefree and safer