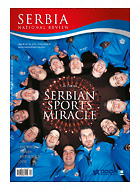 SERBIA - National review, No 30


Prologue
With this edition, "National Review" has completed its fifth, and entered the sixth annual cycle. We have published by now 60 magazine editions, 30 in Serbian and as many in English language. Additionally, there are numerous representative books, dozens of videos and one film. Our journey is marked by abundance of superb photographs and excellent articles, important encounters and great events. Behind us is a "share of effort and miracles", the lesson that the two should not be separated, as well as confirmation that "fortune favors the brave".
We will not celebrate. We, who feel the pain of all the wounds of our people, consider celebration to be distasteful in such a period for our people and our country.
But we keep going. Stay with us.
GALLERY

CONTENTS
Prologue
THERE IS A GRAIN OF JOKE IN EVERY JOKE
Homeland of Mission Impossible
Vitrage
NUMBERS, EVENTS, INTERESTING THINGS
Album
PHOTOGRAPHY BY IGOR PAVIĆEVIĆ
In Focus
AFTER ALL THE GOLD AT THE BEGINNING OF 2012, IT IS TIME TO ASK SERIOUS QUESTIONS
The Wonder of Serbian Sport
How does a country with a population of about eight million succeed in being a world power in team sports without importing people? Do Serbs succeed because they are really closer to the source and real meaning of the thing which fragments we call sports today? Why can it not be explained by modern sociology and sports commentators? What is the relation between authentic sports and spirituality, glory, beauty, game, entertainment, nationalism? Are sports only "compensation for everything else the Serbs don't have or are not able to do" or is there a deeper meaning in it?

By: Branislav Matić
Photo: Vlada Marković, Žikica Jovanović, SWPF
Symbols
THE FAMILY OF BIG BRIDGES OF OUR CAPITAL CITY IS GROWING
A New Bond of the Sava Banks
The seventh big bridge on the Belgrade rivers had a spectacular opening in the first minute of New Year 2012. Since it is hanging on a giant pylon, Belgrade people have given it the name Obeshenyak (Serbian: 'cutup' or 'the hanging one'), used for unforgettable people of the famous Belgrade charm. At the time the eighth bridge of the capital city is being erected on the Danube near Zemun, let us remind you how some of the previous bridges were built, named and destroyed

By: Jovan Vučković
Photo: Dragan Bosnić
Unprotected Beauty
AT THE FAIR IN PROTOPOPINCI, NEAR DIMITROVGRAD, WITH CATTLEMEN THAT ARE NOWHERE TO BE FOUND
The Last Guardians of Old Breeds
People from Stara planina, as well as cattlemen from Pomoravlje, Vojvodina and Šumadija gathered at the exhibition of autochthon breeds. It was interesting to see buše (cows), buffalos, nonijusi (horses), Balkan horses, goats and donkeys. Sheep were of the most numerous breeds. And then we went out, with the cattlemen, to spacious pastures that used to be owned by Sarakatsani, Torlaks and Šops...

Text and photographs: Dragan Bosnić
Lowland
IN KULPIN, ABOVE NOVI SAD, LIES THE LARGEST AGRICULTURAL MUSEUM IN BALKANS
Through the Meerschaum
There, in the Dunđerski summerhouse, if one listens closely, sometimes a rippling laughter of young ladies and a soft rippled sound of their ball gowns can still be heard. The park, lying on five hectares, English in front and French in the back, longs for its original patron, the one that founded it. Since 1993 in side facilities lies a unique museum in which one might see a sowing machine from the beginning of the 19th century, and a tractor from Rakovica from 1949, and even gain insight in history of hop, brewing, growing wheat, hemp, broomcorn, and witness the rich collection of smoking pipes

By: Zorica Todorović Mirković
Mark
AN ARCHEOLOGICAL EXCAVATION IN DIĆI NEAR LJIG LEFT MANY QUESTIONS OPEN
A Church from Weeds and Dreams
Darinka Savić was very eager to see the excavations in the middle of the village cemetery begin, because "there is a church there". That is what St. Nicholas told her during his many visits to her dreams. When the archeologist from the Valjevo Institute began excavations, he discovered a church from the early XIV century and symbols indicating "royal connections". He found only three bones, unmoved, in the tomb of the donor, "master Vldrag", i.e. "the Lord's servant Nikola", and they discovered that a man is resting in the tomb of "lady Vladislava"!... Even today, twenty years later, the church still has not been restored. It also seems that St. Nicholas is not visiting any more. He said what he had to say

By: Olga Vukadinović
Photo: Milan Janković
Landmark
BELGRADE PARKS: AS THEY ONCE WERE, AS THEY ARE NOW AND AS THEY MIGHT LOOK LIKE
Nature inserted into city construction
Gardens used to have their own language, symbolic system, poetics, music, green architecture, they sustained governing ideologies and the power of a state. Therefore, it is today, except that a man from a democratic world is loosing the ability to understand it. The modern relative of ancient gardens – public city park – is based upon the same principles, except for the compromises with the spirit of the time, practicality and different way of life. If you want to measure a city's power, creativity, will and self-esteem, take a look at how its parks are landscaped and how many of them there are. (If you want to measure its austerity and profoundness, take a look at its graveyards, the resting places of ancestors.) "National Review" will remind you of history and importance of numerous Belgrade parks, and suggest how some of them should look like in order to be real ornaments and refreshment of this city

Author: Vladana Putnik
Design solutions: Aleksandar Kostić
Old Master
PETAR LALOVIĆ, DOCUMENTARY FILM WIZARD AND GUARDIAN OF THE LAST OASES OF NATURE WITHIN US
The Best of the Best
First Jamie Uys enchanted him with his favorite documentary "Animals are Beautiful People". Although he knew he didn't have monkeys, lions, crocodiles, he wanted to make equally interesting movies about nature and animals in our environment. And he succeeded. From "The Last Oasis" and "Disappearing World" and about two hundred extraordinary short films, to the "Belgrade Oasis" and "How to Sell the Sky, Water and Warmth of the Soil"… Last summer he has officially become "The Best of the Best", before everyone, including Jamie Uys. Perhaps none of this would have happened if he hadn't been excluded from the Party

By: Radmila Tamindžić
Photo: NR Press and interlocutor's archive
Lyre
NOVICA TADIĆ (1949-2011), THE MONK OF CONTEMPORARY POETRY
Scream and Prayer
The editor of his first book in 1974 was Milorad Pavić. Under the swings of dark combs, a terrible city appears before us later, a great devil's maw, where misfortunes spawn. His poetics of the ugly and images of the terrible open up a new dimension of poetry. The scream of our concentration camp century echoes in those verses. The Lamb appears at the city dump… We could never see Novica in places "where trash competes". He never accepted to be a poet who gives himself to awards, or lives from his surname. If he had been buried in the Alley of Deserving Citizens, he would probably have fled from it. But he will eternally have his place next to Nastasijević and Popa, next to Jakšić and Dis

By: Dragan Lakićević
The Forgotten Ones
THE PAINTER WHO MERGED WITHIN HIMSELF ETERNAL RUSSIA AND IDEAL SERBIA
Four Chapters of Vasa Eškićević
Destiny refused to make this talented man from Irig (1867-1933) become a village barber. It took him to Belgrade, then Vienna, then St. Petersburg. He was the first and only Serb who graduated from the Imperial Academy of Arts in Russia. He was highly esteemed, his paintings were reproduced in many copies and entered many Russian homes (later also Serbian and French). When Serbia was attacked in 1914, he left everything behind and put himself at the disposal of the Serbian Army command. He was given the position of the First Army war painter and accompanied it all along, through all the sufferings and resurrections. He left behind multiply important works, contributed them to the glory and memory of Serbia. He rests at the Uspensko groblje cemetery in Novi Sad. Forgotten?

By: Đorđe M. Srbulović
Worlds
VLADIMIR VOJVODIĆ, MASTER OF POETIC REALISM AND CLASSICALLY COMPREHENDED PAINTING
Hails Distant and Concealed
They are not skillfully analyzed photographs, painting nature from memory, or searching for a stronghold in the common idea of mimesis. They are purely artistic solutions, brought almost to abstraction. Like chamber music or poetry, these paintings awake the deepest in a human, introduce us to the higher circles of existence, they recuperate and renew. Because the artist is an alchemist, a wizard, a mediator between worlds and knower of secrets

By: Dejan Đorić
National Television
"MILITARY ACADEMY", NEW TV SERIES ON RTS
The School for Winners
Throughout its 161 years long history, many later famous people have gained their knowledge and skills at this supreme academy. Prominent war commanders, prime ministers, ministers, academics, artists, sportsmen. A special way of life and education offers numerous stories suitable for a movie. Based on such true stories, sixteen one-hour episodes were created, according to the script written by Gordan Mihić, directed by Dejan Zečević

By: Dragoslav Bošković
Photos: RTS
Serbian Mythology
VODENYAK, KING OF THE DEPTHS, WEARING A FISH SCALE CROWN
The Unusual Master of Waters
People used to differentiate living, dead, holy, untouched, mute, fairy, prophetic, flag, enchanting water… in an ordinary jug. Now all the waters of the world, great waters, are only: water. Dirty on earth, salty and acid in the sky. While we still have rains, while we can still walk through the morning dew, feel the fluid bows of rivers, it is time to remember beings that took care of waters and protected them
By: Milenko Bodirogić
Illustrations: Dragan Bibin
The Winner
NENAD BOROVČANIN, EUROPEAN BOXING CHAMPION IN CRUISEWEIGHT CATEGORY
I Don't Have a Spare Homeland
For him, he says, the treason is unacceptable also in love, friendship, work, and let alone when comes to the country. Box is an honest story, maybe more honest than life. Low blows are unacceptable, as well as back blows, intrigues and machinations are of no use. Two men voluntarily enter into the boxing ring and stay there alone, face to face. There are no withdrawals, replacement from the bench, time out. There is no possibility that someone else would resolve your problem instead of you. To fall down is not so much a weakness, as it is the virtue to stand up. Box, simply, teaches you how to fight

By: Dejan Bulajić
Photographs: NR Pres and archives of Nenad Borovčanin
Health
PROFFESOR DR STAMENKO S. ŠUŠAK, RESPECTABLE SERBIAN CARDIO SURGEON
Having a Heart in Your Hands
He works at the Institute for cardiovascular diseases in Sremska Kamenica. He is a professor of surgery, cardio-surgery and medical ethics at the Faculty of Medicine in Novi Sad. He teaches at the Faculty of Theology at SPC in Belgrade and Pan-European University in Banjaluka. He specialized in cardio-surgery in Berlin, at the most prestigious European centre for cardio-surgery. He is the only civilian in the Committee for Bio-Ethical Issues of the Synod of Serbian Orthodox Church, a member of All-Orthodox Bio-Ethical Committee under the auspices of Ecumenical Patriarchate of Constantinople

By: Igor Despotović
Knowledge
BELGRADE BUSINESS SCHOOL IN ACCORDANCE WITH THE MOST CONTEMPORARY REQUIREMENTS
Certificates for the Entire World
"The Information Society Development Strategy", adopted by the government of Serbia, requires computer literacy of all citizens, in accordance with ECDL standards. Belgrade Business School immediately complied with these requirements. With optimal use of all of its resources, as well as experience of prestigious business institutions around the world, they have organized the most contemporary programs for information training of students
Knowledge
UNIVERSITY "SINGIDUNUM": DR JOVAN POPESKU, PROFESSOR OF MANAGEMENT OF TOURIST DESTINATIONS AND MARKETING
The Secret of Good Tourist Product
The world economic crisis, of course, affects the tourism as well. Directly and indisputably. All tourist countries experience decrease in turnover. Fight for guests is not the question of increasing income in 2012, but the matter of strategic positioning of every destination both in this and in many other years to come. What should Serbia do in order to empower the already developed destinations and systematically open many new ones, especially in the area of rural tourism?

Text and photographs: Rozana Sazdić
The Heart of Serbia
THE STUDENTS' CENTRE OF THE UNIVERSITY IN PRIŠTINA, THE RECIPIENT OF SAINT SAVA AWARD FOR 2012
Both Residence and Refuge
They had 4,000 excellent slots for students and everything that was necessary for a good quality life and learning. After the aggression of the NATO on Serbia and the violation of the peace treaty, and then the exodus of Serbian population from the occupied areas of the province, they were left out of everything. Their seat was temporarily displaced in Kosovska Mitrovica, and they started all over again. Today they have five student dormitories in Kosovska Mitrovica, two in Leposavić, dormitories in Zvečan, Zubin Potok, Blac. They provide good quality accommodation for almost 1,500 students, prepare 65,000 meals per month, but their significance and mission are much wider than that
Insurance
NEW PRODUCTS OF COMPANY "DDOR NOVI SAD"
24h emergency home repairs
"24h Emergency home repairs" – a new product of "DDOR Novi Sad" that provides round-the-clock help of expert repairmen, in the eventuality of a sudden malfunction inside your housed, or situation that needs emergency intervention, in the shortest time possible. The "24h Emergency Home Repairs" may be stipulated within the insurance policy "My Sweet Little Home". This unique programme was established in cooperation with the renowned international assistance house "Mondial Assistance"
Examples
DR TIHOMIR SIMIĆ, DIRECTOR OF "ELEKTROVOJVODINA", THE BEST MANAGER IN SERBIA IN 2011
The Future in Our Hands
Award "Kapetan Miša Anastasijević" for the best strategic management is the result of excellent work of all 2,500 employees in our company – emphasizes the laureate, receiving the award. In 2012, "Elektrovojvodina" will invest about 40 million Euros in infrastructure and further modernization of the system. The company was also represented in a luxurious monograph "The Way to the Top", that "chrestomathy of entrepreneurship in Serbia in the early second decade of the 21st century"
Energy
IN 2011, PD THERMAL POWER PLANTS "NIKOLA TESLA" PRODUCED OVER 20 BILLION KILOWATT-HOURS OF POWER
Breaking All Records
On that day, December 29, at 12:25 sharp, sirens announced that thermal energy experts from Obrenovac exceeded the previously magic figure, dreamed about by generations. In 2011, 800th ton of coal was delivered to TENT A and TENT B. If they were strung to each other, railway wagons that transported such a quantity of coal (from the beginning of operations of both thermal power plants) they could encircle the planet as much as six times!
Standard
STUDENT CENTRE IN KRAGUJEVAC
Half a Century of Care for Students
From the first cafeteria and student dormitory long time ago, to three accommodation facilities with 634 beds and two restaurants, which feeds over 3,000 people, we have come a long way