Visit
BOR, FROM THE INDUSTRIAL WONDER TO A "DEAD TOWN", AND BACK
New Hopes in the Capital of Copper
When it was one of the richest towns in Yugoslavia, people did not make strategic plans and did not look far enough into the future. The production, aside from mining, was not expanded enough; no other activities were developed with higher potentials. Then, in the 90s, came the state and economic collapse, as well as the economic embargo, and an abyss appeared, "from which you cannot see the sky". Moreover, when people thought that the agony is never-ending, a young and educated management came along. The state invested 130 million Euro in Bor, building a modern smeltery and looking for a strategic partner. Tourist potentials of Brestovačka Spa, Bor Lake, Zlot caves, Stolovi, Dubašnica and Crni peak are discovered again
By: Igor Davidović
Photographs by: Dragan Bosnić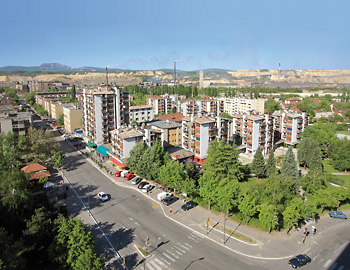 Bor is a town on Borska River, the tributary of Veliki Timok. The town raised quickly, as a mushroom after the rain. About a hundred years ago, Bor was not even on the map, you could not even find it with a magnifying glass. Then, thanks to the organized exploitation of copper and gold, it started growing around the mines, up to eleven thousand buildings. It had 22 thousand employees in its basin. It became a real miracle of industrial development. It filled the funds of its own and the funds of the former great country.
– In the golden years of this town, Bor built all Yugoslavia – says Srđan Marjanović for National Review, the Mayor of the community and our host. – With the money from Bor, we built sports halls, railways, and factories, all around Yugoslavia. A lot was invested as well, in culture, in the quality of life and in the social and civilization part. People settled here, miners, experts, from all around. Today, we have 27 nations in this area! From the profit of 22 thousand workers of the Mining Basin "Bor" (RTB), 60 to 70 thousand people lived very well, including the members of their families.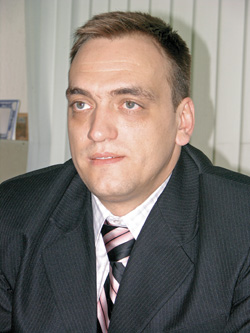 People of the age of your reporter would easily remember: Bor had a powerful printing firm and publishing company, football major leaguer, cultural institutions, health institutions, social services. They welcomed you with a mining greeting and seeing off with "full saddlebags". The panorama of Bor, with mines and chimneys of the Basin in the background, was a regular photograph in reading books, which illustrated the story of quick industrialization of the country, and the beautiful future that is waiting for us.
Then, the copper deposits became poor; one should have invested in strategic research and new mines. Terrain recordings and expert analysis showed that there is many ore in the Bor area, but one should find it and reach it. However, instead of ore came the war, the country fell apart, the economy collapsed; the embargo came from the West. Problems followed one another and it all became a deep abyss.
– The former management of town and of RTB should have known that the day will come where there will be no more ore of such quality – says the young mayor, with no resignation. – People should have though in advance, in a strategic and responsible way. Monostructural economy and relying on mining should have been avoided. They should have emphasized other activities, aside from copper – small economy, private sector, different production. They should have, but they did not. We are now in this situation – from 22 thousand workers only five thousand is left. We have the biggest number of unemployed people in the region. However, we should not complain. If the generations of our fathers did not do their job properly, then we are to do it now. It depends on us.
TRIVIAL METAPHORS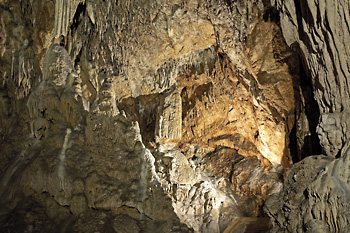 Bor is on 360 metres of height above sea level, surrounded with many mountains, with the parts of southern Carpathians (Kučaj, Malinik, Beljanica, Homolje, Rtanj, Crni vrh, Goli krš, Deli Jovan, Stara Mountain). The vicinities of Bor include many rivers (Veliki and Crni Timok, Zlot River, Brestovači and Borski streams). Near Bor are the communities of Boljevac, Despotovac, Žagubica, Majdanpek, Negotin and Zaječar. Bor has a good regional position. It is 36 kilometres away from Zaječar, 60 from Negotin, 64 from Donji Milanovac and Đerdap Lake. It is 215 kilometres away from Belgrade (through Žagubica) and 240 (through Paraćin, by highway).
Bor is not a "dead town". Despite all that happened to it, it is only a bad and a trivial metaphor, as well as the one about the closing of the mine and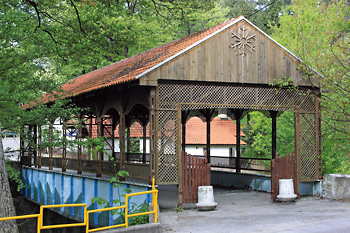 growing mushrooms. On its streets, we met many young people, modern people, who are aware of the problem, but who want to solve problems, who want to start social mechanisms and involve their personal energy. The young people of Bor are the same as in any other town in Serbia. Their true representative is the present mayor of Bor, a 34-year-old economist, Srđan Marjanović.
– I was born in Bor and I live in it with my family, my wife and y two sons. Moreover, we do not intend to leave. It is enough of a motive to make an atmosphere in such circumstances, in the town where our children are growing up, so that we can go on with a happy and healthy life – he says. – Don't get me wrong: we cannot promise all this. We know that our personal crisis is now becoming even wo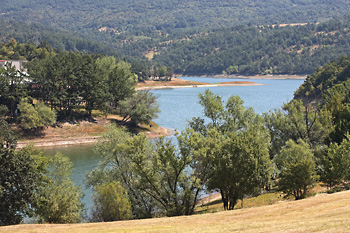 rse with the world crisis. Ask any mayor for his investments – not many would boast. There is no land of luxury. There are no private funds. Those funds are waiting for the outcome of events. However, things are different in Bor. If there are no private funds, there are state funds. Bor was given an investment of 130 million Dollars from the Serbian Government. We shall build a new Basin, which is connected with the privatization of RTB. I estimate that it would also draw other means and that better days would come for smaller cooperates. (For example, several thousand of small private companies are cooperation with "Fiat" of Torino.) That is how Bor can be brought back to life. If you walk through the city, you will see new objects in several locations in which a lot of money had been invested.
CONFIDENCE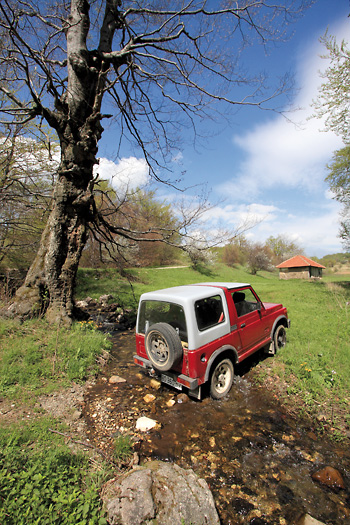 The young mayor and his team have all learned a bitter lesson from the past. They have concentrated their work on expanding economic activities, on activating potentials and employing people in sectors which are not closely connected with copper and RTB, with capital investments, which are solved on inter-state level, and even on a much higher level. In order to realize such a project, it is necessary to organize the inner system. A lot of effort was made for improving the functioning of public companies and services of Bor. A plan was made for paying debts, including the payments for workers, mutual relations are balanced. With the help of credits of the responsible ministry, the debt of "Toplana" are paid off and the heating season will be stable, in circumstances when survival is enviable success.
– One of the biggest potentials of Bor community is tourism – says Marjanović. – Brestovačka spa, caves of Zlot, the Canyon of Lazar River, Bor Lake, Crni vrh, Dubašnica... It is a serious tourist resource, which was not recognized, as it should have been, in Bor and elsewhere. It is true that these beautiful locations are not developed enough, first because of financial problems, but we have decided to make these places the centre of development of our town and our community. "Jezero" Hotel is now under reconstruction, on Bor Lake, which is owned by RTB, but the community is managing it. It will be opened soon, after three years. We are also arranging the c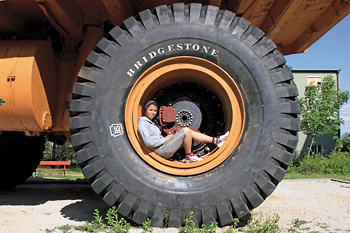 astle of King Aleksandar Karađorđević in Brestovačka Spa, and we are waiting for the opening of "Albo" private hotel, in which more than one million Euros was invested. The improvement of accommodation capacities is the first step towards the development of Bor tourism.
The Tourist Organization of Bor was established in November of 2006, which is a result of finding the potentials and of the necessity of strategic preorientations of which speaks the first man of Bor, the mayor:
– You have seen it all. The plan of tourism development in Bor is well founded. We have what we can get from nature, we have our willing people with a vision, and we shall get the rest, slowly, but for sure. Our realistic view of the world, our detailed character and our courage, along with experts and competent people, are the basis for the confidence, which we get from our citizens.
***
Brestovačka Spa
It is on about 15 kilometres from Bor, only a few kilometres from Bor Lake, out of the zone of aero-pollution. Ten springs of water, of temperature from 32 to 40˚C, it is considered a homeo-thermae. The ancient Romans used it, and the Turks had their own spa. Modern tourism started developing in 1883, when Prince Miloš Obrenović united this area with the state of Serbia. The famous Baron Herder, as prince Miloš ordered, made scientific water analyses in Vienna. It showed that the water of Brestovac was very similar to waters from spas of Tyrol and Switzerland, and the best results are in treatment of muscle, bone, joint and skin problems, from injuries, organism fatigue, and in rehabilitation after a long treatment of other diseases.
***
Caves of Zlot
In the eastern part of Kučaj, around Zlot village, many exceptional caves were discovered, which are mentioned in book of speleology and in guides (Mandina, Vodena, Hajdučka, Vernjikica...). The most beautiful of all, and the first which was adapted for tourist visits, is Lazar (Zlot) Cave. It is settled in the beautiful canyon of Lazar River, only 21 kilometres from Bor, on 291 metres of height. It is the type of cave with a spring in it. It has two levels of canals (the older one is dry, of fossil character, and the younger one is active) of 1592 metres in total. It is rich in cave jewellery. You should also visit its luxurious halls: Prestona, Dvorana blokova, Arsina, Koncertna and Dvorana slepih miševa... In the summertime, when the river dries up, you can pass through its attractive canyon, the narrowest in Serbia, even 500 metres deep!
***
Bor Lake
It appeared with the damming of Brestovačka River on the place where unite its two springs (Valja Žaoni and Merecova River). It is 30 hectares in surface, with 12 million tres of water and it is 48 metres deep.
The coast is jagged, with many beautiful valleys. "Besides the central part of the lake, right behind the dam, there are beautiful and attractive locations on the northern and southern side, which remind us of calm wide rivers, with many adventurers and fishermen."
There are several nicely arranged beaches. Water sports are popular (rowing canoe, kayak...). Near "Jezero" Hotel, which was just renovated, is the auto-camp, some bungalows, a children's rest home...
***
Mountains
Kučaj Mountain is very beautiful and has great potentials, and its northern part, Crni Vrh (a peak of 1043 metres), which is monumentally standing between the river Mlava on the west and Timok on the east. In the 90s, a building of a big tourist object began at this very place, which was supposed to make this mountain the centre of elite tourism. Because of well-known circumstances, the building was stopped. They are still waiting for investments to finish the work and make this centre profitable.
North from Bor, are Veliki krš (1148 metres) and Deli Jovan (1135 metres) mountains. Stol, an elevation of Veliki krš near Luka village, is 1156 metres high, and it is very attractive. We should also mention Dubašnica, as a mountain attraction, a karts area in the east part of Kučaj, an oasis of exceptional beauty.
***
Jokes
"When humour and cheerful character disappear, then you should be worried about this town and about me",said a young man from Bor, our friend, showing us many funny websites on Bor, made by younger people, "with copper not only in their heart but also in their lungs". They showed their creativity and their charm on the internet, the cheapest and most democratic media of all. We found the following:
"You are bored with interesting and fancy internet presentations of famous towns? Well, here is the official fan site of one of the less popular towns of southeastern Europe, for which even Douglas Adams, the writer of the famous The Hitchhiker's Guide to the Galaxy, agreed being a town that is obviously missing from all tourist guides of the region! Well, anyway, it is documented that more than 24 tourists visited Bor in the last 50 years, which is noteworthy..."
Moreover, there is a great made up impression of Johnny Weissmuller: "Bor Lake? No, I never bathed. I was afraid I could bump my head on the opposite bank if I would jump in it."